The Confidence Code for Girls Journal: A Guide to Embracing Your Amazingly Imperfect, Totally Powerful Self (Paperback)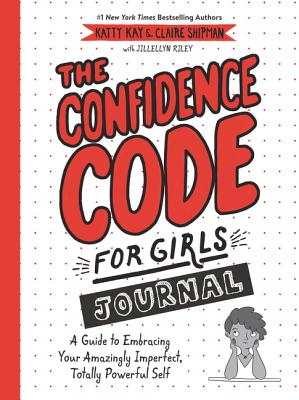 $12.99

Not in stock at Bear Pond: usually arrives in 2-5 days
Description
---
Discover your confidence with this fun and empowering journal based on the #1 bestseller The Confidence Code for Girls. This middle grade journal is an excellent choice for tween readers and makes a thoughtful birthday or graduation gift for the girl in your life.
Do you want to take chances, live fearlessly, and become your most authentic self? This colorful, interactive journal makes it easy and exciting for girls to learn the confidence-building skills that will shape them into courageous young women.
Based on the in-depth research of the bestselling phenomenon The Confidence Code for Girls, this journal will help teens and tweens tackle any challenge.
Filled with writing prompts, confidence boosting activities, quizzes, and more! With a few minutes of writing a day, girls can develop tips, tricks, and strategies to dump doubt, press pause on perfectionism, and catapult into confidence.
About the Author
---
Katty Kay is the anchor of BBC World News America, based in Washington, DC. She is also a frequent contributor to Meet the Press and Morning Joe and a regular guest host for The Diane Rehm Show on NPR. She's the author, along with Claire Shipman, of two New York Times bestsellers, Womenomics: Work Less, Achieve More, Live Better and The Confidence Code: The Science and Art of Self-Assurance—What Women Should Know. In addition to her work on women's issues, Katty has covered the Clinton administration sex scandal, four presidential elections, and the wars in Kosovo, Afghanistan, and Iraq. She was at the Pentagon just twenty minutes after a hijacked plane flew into the building on 9/11—one of her most vivid journalistic memories is of interviewing soldiers still visibly shaking from the attack. Katty grew up all over the Middle East, where her father was posted as a British diplomat. She studied modern languages at Oxford and is a fluent French and Italian speaker with some "rusty Japanese." Katty juggles her journalism with raising four children with her husband, a consultant. Visit Katty online at www.theconfidencecode.com.
Claire Shipman is a journalist, author, and public speaker. She's the author, along with Katty Kay, of two New York Times bestsellers, Womenomics: Work Less, Achieve More, Live Better and The Confidence Code: The Science and Art of Self-Assurance—What Women Should Know. Before turning to writing, Claire spent almost three decades as an award-winning television journalist. For the last fourteen years, Claire was a regular contributor to Good Morning America and other national broadcasts for ABC News. Before that, she served as White House correspondent for NBC News, where she regularly reported on presidential policy and politics for NBC Nightly News and Today. Prior to that, she worked for CNN for a decade, covering the White House, and she was also posted in Moscow for five years, reporting on the fall of the Soviet Union. Claire's coverage from Moscow helped CNN earn a National Headliners Award and a coveted Peabody Award. She received a DuPont Award and an Emmy Award for coverage of the 1989 Tiananmen Square student uprising, as well as a DuPont Award for CNN's coverage of the 1995 Oklahoma City bombing. She graduated from Columbia College and later earned a master's degree from the School of International Affairs there. She's now a member of Columbia's board of trustees. She lives in Washington, DC, with her husband and their two children and three dogs. Visit Claire online at www.theconfidencecode.com.
JillEllyn Riley is a writer and editor with extensive experience in crafting and telling stories. She's worked with bestselling, innovative children's authors, as well as on nonfiction and fiction for adults. Her cowritten middle grade series is The Saturday Cooking Club. JillEllyn lives in Brooklyn, New York, with her husband, two sons, and canine ally Stella.