Interior Chinatown: A Novel (Vintage Contemporaries) (Paperback)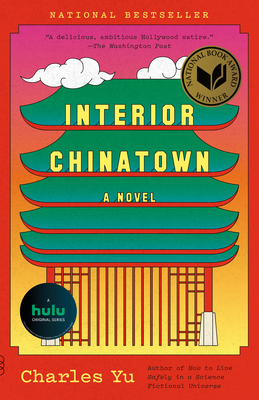 Staff Reviews
---
I love a book that keeps me laughing and gets me thinking at the same time. Set up like a movie script, "Interior Chinatown" is on the surface a satire of Asian American roles in Hollywood. But this funny, insightful, pointed story of Willis Wu is about so much more. Willis aspires to graduate from roles as Background Oriental Man and Asian Delivery Guy right up to Generic Asian Man #1 and maybe one day if he's lucky, the ultimate role of Kung Fu Man. First, Willis has to figure out where he, as a Chinese American, fits into American culture and why it is so hard to find his place. This thoughtful and edifying look at race in America is told so creatively with humor and heart. I can see why it won the National Book Award last year, it reminded me of Paul Beatty's "The Sellout" in many ways. Well deserved, Charles Yu!
— Claire
Description
---
2020 NATIONAL BOOK AWARD WINNER

NEW YORK TIMES BESTSELLER

"One of the funniest books of the year. . . . A delicious, ambitious Hollywood satire." —The Washington Post

From the infinitely inventive author of How to Live Safely in a Science Fictional Universe, a deeply personal novel about race, pop culture, immigration, assimilation, and escaping the roles we are forced to play.

Willis Wu doesn't perceive himself as the protagonist in his own life: he's merely Generic Asian Man. Sometimes he gets to be Background Oriental Making a Weird Face or even Disgraced Son, but always he is relegated to a prop. Yet every day, he leaves his tiny room in a Chinatown SRO and enters the Golden Palace restaurant, where Black and White, a procedural cop show, is in perpetual production. He's a bit player here, too, but he dreams of being Kung Fu Guy—the most respected role that anyone who looks like him can attain. Or is it?

After stumbling into the spotlight, Willis finds himself launched into a wider world than he's ever known, discovering not only the secret history of Chinatown, but the buried legacy of his own family. Infinitely inventive and deeply personal, exploring the themes of pop culture, assimilation, and immigration—Interior Chinatown is Charles Yu's most moving, daring, and masterful novel yet.

"Fresh and beautiful. . . . Interior Chinatown represents yet another stellar destination in the journey of a sui generis author of seemingly limitless skill and ambition." —The New York Times Book Review
About the Author
---
Charles Yu is the author of four books, including Interior Chinatown, winner of the 2020 National Book Award. He has been nominated for two Writers Guild of America Awards for his work on the HBO series, Westworld. He has also written for shows on FX, AMC, and HBO. His fiction and nonfiction have appeared in The New Yorker, The New York Times, The Atlantic, The Wall Street Journal, and Wired, among other publications.
Praise For…
---
ONE OF THE BEST BOOKS OF THE YEAR:
THE NEW YORKER • NPR • TIME • THE WASHINGTON POST • THE ATLANTIC • VANITY FAIR • VULTURE • THRILLIST • SHELF AWARENESS • SOUTHERN LIVING • INSIDEHOOK • AMAZON • KIRKUS REVIEWS • THE NEW YORK PUBLIC LIBRARY • THE CHICAGO PUBLIC LIBRARY

"[A] sharply observed, darkly humorous evocation of the Asian American experience." 
—Entertainment Weekly

"Satire at its best, a shattering and darkly comic send-up of racial stereotyping in Hollywood . . . presented, perfectly, in the sharply hewed format of a screenplay. . . . Peeling back caricatures to paint vivid individual portraits, Yu eviscerates generalizations with the devastatingly specific." 
—Vanity Fair

"Bold, even groundbreaking. . . . Interior Chinatown solders together mordant wit and melancholic whimsy to produce a moving exploration of race and assimilation."
—San Francisco Chronicle

"Interior Chinatown . . . recalls the humorous and heartfelt short stories of George Saunders, the metafictional high jinks of Mark Leyner, and films like The Truman Show."
—The New York Times

"An inventive satire about racial stereotyping." 
—Maureen Corrigan, NPR

"Meticulously crafted. . . . Yu tells us about ourselves with his haunting depictions of the immigrant experience, familial relationships, and the abiding desire to break from the pressures of conformity and live an authentic life."
—Los Angeles Review of Books

"Part novel, part screenplay, part screed, and part sociology, this National Book Award winner is always funny and pretty savage."
—Vulture

"Yu has a devilish good time poking fun at the racially blinkered ways of Hollywood. . . . [Interior Chinatown is] rollicking fun, and its reclamation of Asian American history, with all its attendant sorrows and hopes, holds out the possibility of a new, true story ahead."
—New York Journal of Books

"Honest, funny, sad, and necessary satire."
—Thrillist

"Like nothing you've read before—a moving and transportive work abounding with risks that pay off."
—InsideHook

"Passionate and clever. . . . A caustic, absurd, and endearing exploration of Asian American stereotypes, police procedurals, and the immigrant experience."
—Shelf Awareness

"A stunning novel about identity, race, societal expectations, and crippling anxiety told with humor and affection and a deep understanding of human nature."
—The Washington Independent Review of Books

"Conflates history, sociology, and ethnography with the timeless evils of racism, sexism, and elitism in a multigenerational epic that's both rollicking entertainment and scathing commentary."
—Booklist (starred review)