Compromised: Counterintelligence and the Threat of Donald J. Trump (Paperback)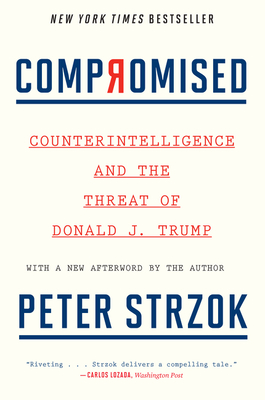 $17.99

Coming Soon - Available for Pre-Order Now
Description
---
Instant New York Times bestseller  

"This is the book I have been waiting for."—Rachel Maddow

From "the FBI agent who started it all" (David Martin, CBS Sunday Morning), an epic, behind-the-scenes account of the biggest counterintelligence story of our time: Russia's war on American democracy, and the effort to hold Putin's collaborators to account.

When he opened the FBI investigation into Russian meddling in the 2016 presidential election, Peter Strzok had spent over two decades defending the United States against foreign threats. His long career in counterintelligence ended shortly thereafter, when he was forced out of the Bureau for privately voicing his political opinions about Donald Trump. But by that time, Strzok had seen more than enough to believe that the country's new commander in chief had fallen under the sway of America's adversary in the Kremlin. In Compromised, Strzok draws on lessons from a long career—from his role in the Russian illegals case that inspired The Americans to his service as lead FBI agent on the Mueller investigation—to construct a devastating account of foreign influence at the highest levels of our government, and to reveal the lingering implications for our national security.
About the Author
---
PETER STRZOK is the former FBI deputy assistant director of counterintelligence and a twenty-two-year veteran of the Bureau. He served as one of the original case agents for the Russian couple who inspired the TV series The Americans, and he has investigated a range of other high-profile cases, from WikiLeaks to the 9/11 hijackings to Hillary Clinton's private email server. He was selected to head the FBI's investigation into Russian interference in the 2016 presidential campaign and worked with Robert Mueller as a leader of the FBI's efforts in creating the Special Counsel's Office. Also a veteran of the U.S. Army's 101st Airborne Division, he is the recipient of the FBI's highest investigative honor, the Director's Award for Excellence. He lives in Virginia with his family.
Praise For…
---
"The United States needs a hero . . . Trump doesn't want Americans to get ideas or inspiration from Strzok. He doesn't want them to see what backbone looks like."
—William Saletan, Slate
"Peter Strzok stands for an FBI that, whatever its faults, serves the nation rather than a political master. G-men have become the Henry Fondas, the Jimmy Stewarts, of the present day—the true believers in an archaic code."
—James Traub, Atlantic
"His early experiences . . . make for riveting reading . . . Strzok delivers a compelling tale."
—Carlos Lozada, Washington Post
"Aficionados will welcome the insights he is able to provide about key moments in the story . . . For those with a solid background in the Clinton email and Russia imbroglios, Strzok's account obviously is essential."
—Philip Ewing, NPR
"A former army officer, Mr. Strzok . . . rose quickly through [the FBI's] ranks, earning a reputation within the Bureau as one of its most savvy and reliable counterintelligence agents."
—Nicholas Fandos, New York Times
"Compelling . . . [Strzok] offers a window into FBI counterintelligence work, a defense of his conduct, and a scathing indictment of the president and his administration. Compromised is a significant contribution to the library of Trump tell-alls."—Guardian