61 Hours: A Jack Reacher Novel (Paperback)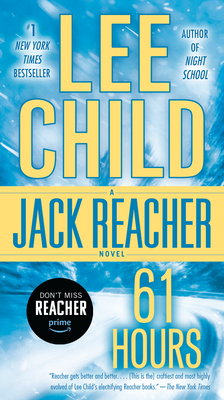 $9.99

Not currently in stock at Bear Pond
Other Books in Series
This is book number 14 in the Jack Reacher series.
Description
---
#1 NEW YORK TIMES BESTSELLER • INCLUDES BONUS MATERIAL • "Reacher gets better and better. . . . [This is the] craftiest and most highly evolved of Lee Child's electrifying Reacher books."—Janet Maslin, The New York Times
 
"Child is a superb craftsman of suspense, juggling several plots and keeping his herrings well-rouged. . . . Chances are you'll want to seek out other Reacher adventures the moment you finish."—Entertainment Weekly
 
A bus crashes in a savage snowstorm and lands Jack Reacher in the middle of a deadly confrontation. In nearby Bolton, South Dakota, one brave woman is standing up for justice in a small town threatened by sinister forces. If she's going to live long enough to testify, she'll need help. Because a killer is coming to Bolton, a coldly proficient assassin who never misses.
 
Reacher's original plan was to keep on moving. But the next 61 hours will change everything. The secrets are deadlier and his enemies are stronger than he could have guessed—but so is the woman he'll risk his life to save.
 
"Masterful . . . a tour-de-force of both structure and suspense."—The Providence Journal
 
"Child keeps his foot hard on the throttle. . . . This is Child in top form, but isn't he always?"—Booklist (starred review)
 
"Compulsively addictive [with] an explosive climax that will have you tearing out your hair until Reacher's next appearance."—The Miami Herald
About the Author
---
Lee Child is the author of nineteen New York Times bestselling Jack Reacher thrillers, ten of which have reached the #1 position. All have been optioned for major motion pictures; the first, Jack Reacher, was based on One Shot. Foreign rights in the Reacher series have sold in almost a hundred territories. A native of England and a former television director, Lee Child lives in New York City.
Praise For…
---
"[The] craftiest and most highly evolved of Lee Child's electrifying Jack Reacher books… The truth about Reacher gets better and better." —The New York Times

"Child is a superb craftsman of suspense, juggling several plots and keeping his herrings well-rouged….Best of all, this is a rare series book that reads like a stand-alone. Everything you need to know about Jack Reacher is contained within its pages. And chances are you'll want to seek out other Reacher adventures the moment you finish." —Entertainment Weekly (A-)

"Jack Reacher is much more like the heir to the Op and Marlowe than Spenser ever was." —Esquire

"As usual, Child's writing is superb. Not only is this thriller believable, but the descriptions of the blizzard will make readers want to hug their furnaces. Fast paced and exciting, this is highly recommended for thriller fans." —Library Journal (starred review)
 
"Get prepared for teeth-chattering suspense….Child sets up one of his most ingenious plots in the Jack Reacher chronicles. A fiery finale will leave fans talking and speculating for weeks to come." —Madison County Herald
 
"Child deepens the mystery considerably, providing an explosive climax that will have you tearing out your hair until Reacher's next appearance." —Miami Herald

"Once again, Child spins a riveting, ticking-clock Jack Reacher adventure….It's guarantees you'll finish this one in less than 61 hours—and the jolter conclusion will shock and awe you." —Romantic Times Book Review

"Implausible, irresistible Reacher remains just about the best butt-kicker in thriller-lit." —Kirkus Reviews (starred review)

"Child keeps his foot hard on the throttle...As always, Child delivers enough juicy details about the landscape, the characters, and Reacher's idiosyncrasies to give the story texture and lower our pulse rates, if only momentarily...This is Child in top form, but isn't he always?" —Booklist (starred review)