House of Wonder (Paperback)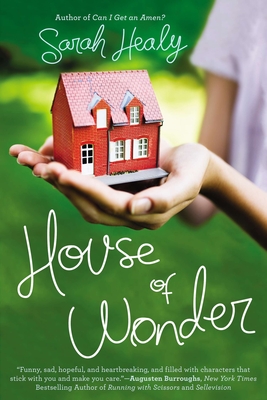 Description
---
When we were little and I needed Warren, I would rub my earlobe.  And perhaps it was the alchemy of childhood, a magic that happened because I believed it could, but I swear it worked. He always came.

Theirs wasn't always the misfit family in the neighborhood. Jenna Parsons's childhood was one of block parties and barbecues, where her mother, a former beauty queen, continued her reign and her twin brother, Warren, was viewed as just another oddball kid. But as her mother's shopaholic habits intensified, and her brother's behavior became viewed as more strange than quirky, Jenna sought to distance herself from them. She is devoted to her career and her four-year-old daughter, Rose. But now, in his peculiar way, Warren summons her back to 62 Royal Court.

What she finds there—a house in disrepair, a neighborhood on tenterhooks over a rash of petty thefts, and evidence of past traumas her mother has kept hidden—will challenge Jenna as never before. But as she stands by her family, she also begins to find beauty in unexpected places, strength in unlikely people, and a future she couldn't have imagined. 
About the Author
---
Sarah Healy lives with her husband and three sons in Vermont, where she works in marketing consultancy. She is the author of two novels: Can I Get an Amen? and House of Wonder.
Praise For…
---
Praise for House of Wonder
"With keen insight and rare emotional truth, Sarah Healy hits every mark with
House of Wonder
.  It's funny, sad, hopeful, and heartbreaking and filled with characters that stick with you and make you care.  If you've ever known an outsider or an oddball—or been one—this is a novel for you."  —Augusten Burroughs,
New York Times
bestselling author of
Running with Scissors
and
Sellevision.
"An emotionally gripping tale of love, loss, and the universal convolutions of family. [Healy] paints her characters into life until you feel as if you've known them forever. I savored every delicious subtlety."—Emily Liebert, author of
You Knew Me When
"Shows how family ties tend to worm their way from matters of obligation to matters of the heart, quickly and completely. The delicious dips into family history and the complex relationships in this book are as lovely as they are deep."—Jennifer Scott, author of
The Sister Season
and
The Accidental Book Club
"Kept me reading late into the night, wondering how things would work out for these endearing characters. For fans of contemporary fiction and anyone who enjoys well-drawn characters who are much like people you know."—
Concord Monitor
 (New Hampshire)
"Fans of Beth Harbison and Nancy Thayer will appreciate this tender, emotional portrait of a modern family."—
Booklist
"Shifting admirably between the hidden past and the uncomfortably exposed present, Healy creates a believable and poignant portrait of a unique family grappling to understand itself and its role in a largely unimaginative world."—
Kirkus

Praise for Can I Get an Amen?

"A sparkling debut novel about dealing with family and finding love. An absolute treat!"—New York Times Bestselling Author Janet Evanovich

"An emotional and satisfying novel that is as tender as it is funny—a fabulous debut that's fresh, honest, and addictive. Don't miss it!"—New York Times Bestselling Author Emily Giffin

"Touching, funny, and full of heart. A highly entertaining novel about love and family, secrets and forgiveness."—New York Times Bestselling Author Lisa Scottoline

"Healy's supporting characters are charming."—Publishers Weekly

"Healy delivers as many laugh-out-loud moments as touching ones...seems sure to join the ranks of women's fiction favorites."—Examiner.com