Rendez-vous with Art (Hardcover)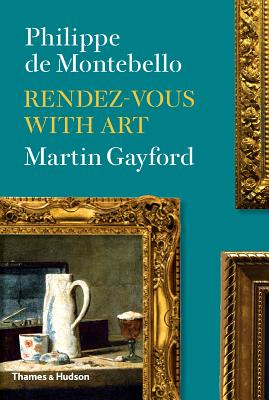 Description
---
The fruits of a lifetime of experience by a cultural colossus, Philippe de Montebello, the longest-serving director of the Metropolitan Museum of Art in its history, distilled in conversations with an acclaimed critic
Beginning with a fragment of yellow jasper—all that is left of the face of an Egyptian woman who lived 3,500 years ago—this book confronts the elusive questions: how, and why, do we look at art?
Philippe de Montebello and Martin Gayford talked in art galleries or churches or their own homes, and this book is structured around their journeys. But whether they were in the Louvre or the Prado, the Mauritshuis of the Palazzo Pitti, they reveal the pleasures of truly looking.
De Montebello shares the sense of excitement recorded by Goethe in his autobiography—"akin to the emotion experienced on entering a House of God"—but also reflects on why these secular temples might nevertheless be the "worst possible places to look at art." But in the end both men convey, with subtlety and brilliance, the delights and significance of their subject matter and some of the intense creations of human beings throughout our long history.
About the Author
---
Philippe de Montebello is the longest-serving director of The Metropolitan Museum of Art in its history. His retirement in 2008 was described as the end of an era "in the cultural life of the city, the state, the nation, and the world." He is a Chevalier de la Légion d'Honneur and has a worldwide influence on cultural policies, often in an advisory capacity. He is now Fiske Kimball Professor in the History and Culture of Museums at the Institute of Fine Arts, New York.

Martin Gayford is an art critic for The Spectator. His books include Modernists & Mavericks, Man with a Blue Scarf, A Bigger Message, Rendez-vous with Art (with Philippe de Montebello), A History of Pictures (with David Hockney), and most recently, The Pursuit of Art.
Praise For…
---
Philippe de Montebello has produced a humane and engaging volume aimed squarely at the educated lay reader . . . The book hints at the history of the museum as a societal institution and yields insights into the benefits and shortcomings of seeing art in a museum setting, where our access to objects often entails severing them from their original content. . . .  It is a testament to Mr. de Montebello's character that he has chosen to write a book of this type and not an arrogant, inflammatory account of his tenure at the Met.
— The Wall Street Journal

"A sparkling gem of a book."
— The Wall Street Journal

Sure to provoke a response . . . The premise—two art experts look at some of the world's most magnificent works in tandem—is a good one, offering readers guided tours of the Louvre, the Prado, the Palazzo Pitti, and other prestigious institutions. . . . The book adds an ingenious twist to the classic approach to art criticism. Considerable insights into the featured art.
— Publishers Weekly

Rather than a traditional art history or theoretical text, the authors seek to revive the timeless pleasures of looking deeply at artwork themselves and to mark the irreplaceability of first-person artistic encounters. De Montebello particularly emphasizes the importance of the viewer's own emotional connection with art in discriminating the good from the great."
— Booklist/American Library Association

An absorbing read, which should prove to be of just as much interest to the general reader as to the insider. . . . What makes these conversations so valuable is the fact that they give us something we will never otherwise have—a kind of covert biography of Philippe de Montebello, combined with his response to art.
— The Spectator UK

Gayford and de Montebello engage readers with pleasant, unapologetically scholarly nostalgic conversation in dialog format. The authors are clearly passionate about their shared history of art in museums, the institutions' sense of place, and even their commiseration about 'museum feet.' Top-shelf art appreciation makes this 'impulsive' discourse stand out.
— Library Journal

Rendez-vous with Art is your chance to stroll the Met, the Bargello, the Louvre, and more with de Montebello as he chats with Martin Gayford. Together, they teach us fresh ways to look at and think about their artwork the spaces that house these treasure troves.
— Traditional Home

The sprawling-yet-intimate structure works. . . . The two authors discuss why photographs never quite capture art . . . and the two art lovers mourn, as they run into a crowd at the Prado, that the more famous a picture is, the harder it is to see.
— New York Observer, Gallerist NY

As we accompany the two friends on their wanderings, we get an unvarnished glimpse of where their affections and prejudices lie. Normally, such insights are rare....Would that Rendez-vous with Art were made required reading in today's postgraduate art history programs!

— The New Criterion

The chief pleasure of reading de Montebello is to watch a connoisseur at work. Can such a refined, scholarly vision survive the current trend towards the anthropological, populist approach?
— Financial Times UK

A series of lively conversations, notable for their wit and erudition, about their encounters with great art (mostly European, pre-1800) in a half-dozen countries over two years.
— Associated Press

The book raises fundamental, fascinating questions about art that typically aren't raised elsewhere. Philippe de Montebello offers new takes on well-known artists like Titian, Velasquez, Goya, and Rubens, and also introduces readers to far less known and anonymous artist. Once you experience art the way de Montebello does, you will never looks at a painting, a sculpture, or even a museum visit the same way.
— The Huffington Post

Few books of late have pleased me as much as this one....Not the least value of this volume is the discussion of a matter that never makes it into art writing, neither criticism nor art history: the physical and emotional interaction between the painting on the wall and the human who stands before it, in a state of greater or lesser receptivity.
— The Weekly Standard

The discussions are witty as well as erudite, and the book invites readers to participate vicariously and thoroughly enjoy the experience.
— Portland Book Review

As the authors emphasize, the art that viewers see in these institutions is representative of the greater whole of the civilization or culture from which it emanates. . . . Offers an intimate entry point into the process and pleasure of encountering art objects within museums and other collections. . . . Highly recommended.
— Choice

The ex-director and his friend . . . insinuate [. . .] that the museum is at the root of a fiction and that experiences of art can never be more than encounters, a scattering of rendezvous , in a world where all is fleeting contingency. Each artifact is a little endpoint: it is not to be argued that they lead anywhere, let alone redeem anything on the street outside. And yet the works themselves seem to drag so frantically back in the other direction, toward plenitude of meaning. You are left with the echoes of de Montebello's exclamation, as he gets caught up in the force field of a Velázquez or a Rubens: 'There, this is life!'
— The New York Review of Books