Little Eyes: A Novel (Hardcover)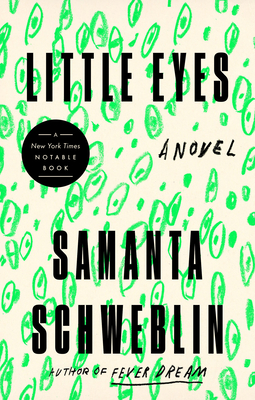 $26.00
Usually Ships in 1-5 Days
Staff Reviews
---
Truly strange in the absolute best of ways, this brilliant novel attacks our culture's obsession with technology and voyeurism through the lens of isolation, loneliness, and the desperate search for connection. Imagine pet robots, the potential to view through eyes that can see into the world of someone else anywhere in the world, and a scathing look at humanity's need to find meaning and love all twisted up into a visionary and remarkable story. Seriously, this book blew me away.
— Tyler
Description
---
LONGLISTED FOR THE 2020 MAN BOOKER INTERNATIONAL PRIZE

"Her most unsettling work yet — and her most realistic." --New York Times

A visionary novel about our interconnected present, about the collision of horror and humanity, from a master of the spine-tingling tale.

They've infiltrated homes in Hong Kong, shops in Vancouver, the streets of in Sierra Leone, town squares in Oaxaca, schools in Tel Aviv, bedrooms in Indiana. They're everywhere. They're here. They're us. They're not pets, or ghosts, or robots. They're real people, but how can a person living in Berlin walk freely through the living room of someone in Sydney? How can someone in Bangkok have breakfast with your children in Buenos Aires, without your knowing? Especially when these people are completely anonymous, unknown, unfindable.

The characters in Samanta Schweblin's brilliant new novel, Little Eyes, reveal the beauty of connection between far-flung souls--but yet they also expose the ugly side of our increasingly linked world. Trusting strangers can lead to unexpected love, playful encounters, and marvelous adventure, butbut what happens when it can also pave the way for unimaginable terror? This is a story that is already happening; it's familiar and unsettling because it's our present and we're living it, we just don't know it yet. In this prophecy of a story, Schweblin creates a dark and complex world that's somehow so sensible, so recognizable, that once it's entered, no one can ever leave.
About the Author
---
Samanta Schweblin is the author of the novel, Fever Dream, a finalist for the Man Booker International Prize and the collection A Mouthful of Birds, longlisted for the Man Booker International Prize. She was chosen as one of the twenty-two best writers in Spanish under the age of thirty-five by Granta. She has won numerous prestigious awards throughout the world, and in English her work has appeared in The New Yorker and Harper's. Her books have been translated into twenty-five languages. Originally from Buenos Aires, she lives in Berlin.

Megan McDowell has translated books by many contemporary South American and Spanish authors, and her translations have been published in The New Yorker, Harper's, The Paris Review, McSweeney's, Words Without Borders, and Vice, among other publications. She lives in Chile.
Praise For…
---
Praise for Little Eyes

"The Argentine literary sensation—whose work is weird, wondrous, and wise—leads a vanguard of Latin American writers forging their own 21st-century canon.... Samanta Schweblin has perfected the art of pithy literary creepiness, crafting modern fables that tingle the spine and the brain. Her latest book, Little Eyes, distills her uncanny ability to unnerve. Think of it as Black Mirror by way of Shirley Jackson." –O, the Oprah magazine

Samanta Schweblin's writing straddles the unsettling border between the real and the surreal.... Her latest novel, Little Eyes, may be her most unsettling work yet — and her most realistic. Its dystopian premise is eerily plausible." –New York Times

"A timely meditation on humanity and technology." –Harper's Bazaar

"Samanta Schweblin is not a science fiction writer. Which is probably one of the reasons why Little Eyes, her new novel reads like such great science fiction.... you can't stop watching. Even when you want to — even when Schweblin shatters your trust and twists the knife as Little Eyes reaches its absolutely gutting, absolutely haunting conclusions — you just can't look away." –NPR

"Ingenious... Like Mohsin Hamid's Exit West, Little Eyes has much to say about connection and empathy in a globalised world. On a personal level, its investigation into solitude and online experience becomes only more poignant in a global lockdown." –The Guardian

"Little Eyes explores, in a seamless translation by Megan McDowell, the intrusion of technology on privacy and its effects on interpersonal connections." –Financial Times

"Drawn in quotidian elegance, the novel is a string of nonstop, colorful vignettes… If Schweblin's sci-fi thriller Fever Dream made sleep difficult, Little Eyes raises the unease quotient. The book seems to watch viewers creepily as it unfolds." –BookPage Magazine

"This brilliant and disturbing book resembles Margaret Atwood's Handmaid's Tale in how it speculates…Schweblin unspools a disquieting portrait of the dark sides of connectivity and the kinds of animalistic cyborgs it can make of us, as we walk through barriers that even spirits cannot cross."  –Literary Hub

"This book gives us a harrowing glimpse of the near future in the age of voyeurism…Schweblin unnervingly illustrates the dark side of technology and connectivity." –Tor.com 

"A nuanced exploration of anonymous connection and distant intimacy in our heavily accessible yet increasingly isolated lives...Capacious, touching, and disquieting, this is not-so-speculative fiction for an overnetworked and underconnected age." –Kirkus Review 

"Readers will be fascinated by the kentuki-human interactions, which smartly reveal how hungry we are for connection in a technology-bent world. Of a piece with Schweblin's elliptical Fever Dream and the disturbing story collection A Mouthful of Birds...this jittery eye-opener will appeal to a wide range of readers."  –Library Journal 

"Schweblin's portrait of humanity here isn't a pretty one, though many, no doubt, would call her a realist. Little Eyes makes for masterfully uneasy reading; it's a book that burrows under your skin. It's also made me want to stay away from Zoom for as long as possible." –The Telegraph 

"Daring and original...Schweblin deftly explores both the loneliness and casual cruelty that can inform our attempts to connect in this modern world." – Booklist 

"Schweblin unfurls an eerie, uncanny story…Daring, bold, and devious." – Publishers Weekly


Praise for Samanta Schweblin

"Tales of somber humor, full of characters who slide into cracks or fall through holes into alternate realities." —J. M. Coetzee

"Strange and beautiful." —Tommy Orange

"Genius." —Jia Tolentino, The New Yorker

"A nauseous, eerie read, sickeningly good." —Emma Cline

"Schweblin is among the most acclaimed Spanish-language writers of her generation.... [H]er true ancestor could only be David Lynch; her tales are woven out of dread, doubles and confident loose ends.... What makes Schweblin so startling as a writer, however, what makes her rare and important, is that she is impelled not by mere talent or ambition but by vision, and that vision emerges from intense concern with the world, with the hidden cruelties in our relationships with all that is vulnerable — children, rivers, language, one another." —New York Times

"Admirers of Schweblin's work will be delighted to learn that she hasn't lost any of the atmospheric creepiness that made Fever Dream such an unsettling ride.... Schweblin is a master of elegant and uncanny fiction.... Schweblin is gifted at treating the otherworldly with a matter-of-fact attitude, writing about the surreal as if it were unremarkable.... And her writing, beautifully translated by Megan McDowell, is consistently perfect; she can evoke more feelings in one sentence than many writers can in a whole story. Fans of literature that looks at the world from a skewed point of view will find much to love in Schweblin's book, and so will anyone who appreciates originality and bold risk-taking... A stunning achievement from a writer whose potential is beginning to seem limitless." —NPR

"This brilliant and disturbing book resembles Margaret Atwood's Handmaid's Tale in how it speculates. The parts you think are made up are actually true.... Schweblin unspools a disquieting portrait of the dark sides of connectivity and the kinds of animalistic cyborgs it can make of us, as we walk through barriers that even spirits cannot cross." —John Freeman, LitHub