The Center of Everything (Paperback)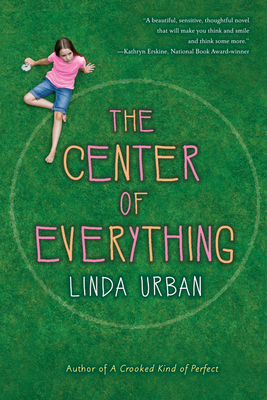 $7.99
Email or call for price.
Spring '13 Kids List
---
"Everything in Ruby Pepperdine's life has been wrong since her beloved grandmother died. Even her two best friends aren't talking to her anymore. With the town gearing up for Bunning Day -- the annual celebration of the invention of the doughnut -- Ruby knows she has just one chance to make things right. But what if she makes the wrong wish? Ruby will win your heart as she navigates the rough waters of grief and friendship and growing up."
— Sandy Scott, The Galaxy Bookshop, Hardwick, VT
Description
---
For Ruby Pepperdine, the "center of everything" is on the rooftop of Pepperdine Motors in her donut-obsessed town of Bunning, New Hampshire, stargazing from the circle of her grandmother Gigi's hug.  That's how everything is supposed to be—until Ruby messes up and things spin out of control. But she has one last hope. It all depends on what happens on Bunning Day, when the entire town will hear Ruby read her winning essay. And it depends on her twelfth birthday wish—unless she messes that up too. Can Ruby's wish set everything straight in her topsy-turvy world?
About the Author
---
Linda Urban's debut novel, A Crooked Kind of Perfect, was selected for many best books lists and was nominated for twenty state awards. She is also the author of Hound Dog True, The Center of Everything, Milo Speck, Accidental Agent, and the chapter book Weekends with Max and His Dad, which received two starred reviews. A former bookseller, she lives in Vermont. Visit Linda online at lindaurbanbooks.com and on Twitter at @lindaurbanbooks.
Praise For…
---
VOYA Top Shelf for Middle School Readers 2013 list
"The Center of Everything travels a satisfying, circular path that deliberately echoes the shape of a donut. . . . Wishing has a useful place both in childhood and in this novel; but so, too, does reality, especially when rendered with this kind of sensitivity."
—Meg Wolitzer, The New York Times Book Review "Another gem from one of my favorite authors! Ruby Pepperdine and her wish will work their way into the center of your heart, where they'll remain (along with a yearning for donuts) long after you close the book."—Ingrid Law, author of Savvy, a Newbery Honor Book

"A beautiful, sensitive, thoughtful novel that will make you think and smile and think some more, and fall in love with Linda Urban's books."
—Kathryn Erskine, National Book Award-winner "Every book by Linda Urban makes me laugh, cry, hope, wonder, and fall in love with her writing. With The Center of Everything, she has done it again!"—Barbara O'Connor, author of How to Steal a Dog * "Throughout this slim, affecting novel, Urban treats Ruby's bewilderment with care, and gracefully reinforces the value of friends, family, and community."
—Booklist, starred review

"Ruby's large imagination and even bigger heart are beautifully evoked as the sixth grader finds a way to keep the memory of her grandmother alive."
—Publishers Weekly

* "A poignant, finely wrought exploration of grief."
—Kirkus, starred review

"By turns thought-provoking, humorous, and poignant, Ruby's story introduces a multi-faceted character well worth meeting."
—Horn Book

"Give this to patient readers who enjoy Polly Horvath's The Vacation (2005) and Everything on a Waffle (2001)."
—School Library Journal

* "[Urban] compactly, gently addresses some common aspects of grief: the isolation, the regrets, the bargaining, and the epistemological questions about meaning. . . . This is a terrific first step up for kids who are just beginning to explore more complicated novels."
—Bulletin, starred review