Sad Janet: A Novel (Hardcover)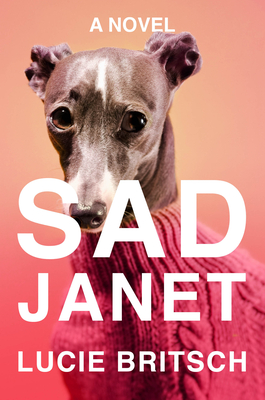 Staff Reviews
---
Is Depression Comedy Lit a thing? It is now! Janet is sad. Very sad. And she's ok with that. In fact, she's really funny about it. Janet works in an animal shelter rescuing dogs and is totally done with her boyfriend and mother pressuring her to medicate to "get through the holidays." She eventually caves in, and in a counterproductive, Janet-like move, starts a fling with the pharmaceutical rep at her group therapy meetings. This book has a very Ottessa Moshfegh feel to it - a lot of dark humor. If I quoted all the funny lines in this book I'd just be rewriting the entire text. I love Janet just the way she is: never medicate, Janet!
— Claire
Description
---
Named one of the Best Books of the Summer by LitHub, The Millions, Refinery29, and Hey Alma.

"Hilarious, wise, wicked, and tender." —Cynthia D'Aprix Sweeney, New York Times bestselling author of The Nest

Janet works at a rundown dog shelter in the woods. She wears black, loves the Smiths, and can't wait to get rid of her passive-aggressive boyfriend. Her brain is full of anxiety, like "one of those closets you never want to open because everything will fall out and crush you." She has a meddlesome family, eccentric coworkers, one old friend who's left her for Ibiza, and one new friend who's really just a neighbor she sees in the hallway. Most of all, Janet has her sadness—a comfortable cloak she uses to insulate herself from the oppressions of the wider world.

That is, until one fateful summer when word spreads about a new pill that offers even cynics like her a short-term taste of happiness . . . just long enough to make it through the holidays without wanting to stab someone with a candy cane. When her family stages an intervention, her boyfriend leaves, and the prospect of making it through Christmas alone seems like too much, Janet decides to give them what they want. What follows is life-changing for all concerned—in ways no one quite expects.

Hilarious, bitterly wise, and surprisingly warm, Sad Janet is the depression comedy you never knew you needed.
About the Author
---
Lucie Britsch's writing has appeared in Catapult Story, Vol. 1 Brooklyn, Split Lip Magazine, and The Sun, and has been nominated for a Pushcart Prize. Sad Janet is her first novel.
Praise For…
---
Advance praise for Sad Janet:

"A gentle, yet precise probe into the nature of melancholia . . . Sad Janet is a strangely exuberant meditation on sadness; Britsch articulates the conflicting comforts and pains of depression in a distinctively memorable, wise way." — Refinery29

"Funny and touching and highlights some very real truths about what it means to be a sad woman in our world." —Hey Alma

"A searing, comedic and accessible take on depression and personality, Sad Janet delivers a comforting message about the value of individuality." —Shelf Awareness

"The narrative voice of Janet in Britsch's debut novel is a skin-tingling combination of new and necessary. . . . This book and this character are radical, and readers are likely to feel a relief at reading the thoughts they've had but not spoken." —Booklist (starred review)

"Britsch's monologue about the experience of unhappiness is undeniably infectious." —Publishers Weekly

"Lucie Britsch has crafted a biting, pitch-perfect novel about one woman's desire to stay true to herself in a world that rewards facile happiness. Hilarious, wise, wicked, and tender, Sad Janet is a dazzling debut and Britsch a singular and necessary new voice." —Cynthia D'Aprix Sweeney, New York Times-bestselling author of The Nest

"I know sad Janet. Sometimes I am sad Janet. At some point in our lives, we could all be a Janet. In her wonderful debut novel, Lucie Britsch celebrates a formerly unheralded state of being: sadness. Embrace your sadness, watch TV, pet a stray dog, masturbate, don't answer the phone. And if you don't feel like taking that pill, try reading Sad Janet instead. It might make you happy." —Marcy Dermansky, author of Very Nice

"In Sad Janet, Britsch has created a slacker heroine with the exuberant weariness of a Melissa Broder poem and the provocative non-conformism of an Ottessa Mosfegh character. From her pulpit in the anarchist dog shelter that also shelters her, Janet has veracious and darkly comic things to say about the real cost of artificial glee. A timely and trenchant debut." —Courtney Maum, author of Costalegre

"Sad Janet is a tragicomic riot of a book—charging, foul-mouthed and tender, across the modern condition. It is an hysterically funny and slyly moving defense for feeling all there is to feel in a medicated world. Lucie Britsch's outcast heroine, Janet, is the dog-whispering, post-Goth cousin to Phoebe Waller-Bridge's Fleabag. Terrifying, glorious, and one for the ages." —Claudia Dey, author of Heartbreaker and Stunt