The Electric Kingdom (Hardcover)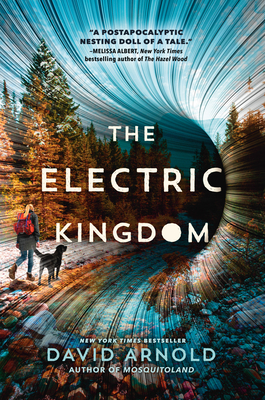 Staff Reviews
---
For fans of The Hunger Games, Walking Dead (but not as violent), and Phantom Tollbooth, this adventure-packed time-warping post-apocolypse dystopia is sure to be a huge hit on the big screen! It's a book nerd's dream book, with literature, stories, science, faith, beauty, killer flies, and love (it's always about love). Follow Nico and her dog Harry on the journey of a lifetime (or more). I could not put this book down, it was everything I want in an escape read. I recommend for ages 13 and up. 
— Sam
Description
---
New York Times bestseller David Arnold's most ambitious novel to date; Station Eleven meets The 5th Wave in a genre-smashing story of survival, hope, and love amid a ravaged earth.

When a deadly Fly Flu sweeps the globe, it leaves a shell of the world that once was. Among the survivors are eighteen-year-old Nico and her dog, on a voyage devised by Nico's father to find a mythical portal; a young artist named Kit, raised in an old abandoned cinema; and the enigmatic Deliverer, who lives Life after Life in an attempt to put the world back together. As swarms of infected Flies roam the earth, these few survivors navigate the woods of post-apocalyptic New England, meeting others along the way, each on their own quest to find life and love in a world gone dark. The Electric Kingdom is a sweeping exploration of art, storytelling, eternal life, and above all, a testament to the notion that even in an exterminated world, one person might find beauty in another.
About the Author
---
David Arnold lives in Lexington, Kentucky, with his (lovely) wife and (boisterous) son. He is the New York Times bestselling author of Kids of Appetite, Mosquitoland, and The Strange Fascinations of Noah Hypnotik. His books have been translated into a dozen languages.
Praise For…
---
Praise for The Electric Kingdom

"This is a story about storytellers, and David Arnold is among the best. The Electric Kingdom is an epic postapocalyptic tale where humanity is louder than a swarm of Flies, and hope radiates in the bleakest of places. Fearless writing and a remarkable cast of characters will send readers on an unforgettable journey." —ADAM SILVERA, New York Times bestselling author of They Both Die at the End
 
"With luminous compassion and ceaseless invention, Arnold has built a postapocalyptic nesting doll of a tale, full of tricky resonances and moments of grace. All the pieces of this fascinating, ambitious book work together like the chambers of some great heart. I can't wait for teen readers to discover it and suspect it was written just for them."—MELISSA ALBERT, New York Times bestselling author of The Hazel Wood
 
"Utterly unique and genre-busting, The Electric Kingdom is David Arnold at his best. I was left in awe by the stunning prose, the challenging philosophical questions, and the masterful puzzle of a plot. The moment I finished, I immediately wanted to read it again."—JASMINE WARGA, Newbery Honor–winning author of Other Words for Home

★ "An intricate piece of high-concept sci-fi . . . carried by crystalline prose, which echoes like poetry, towards a genuinely astonishing and moving conclusion. Accessible, sophisticated, and immensely satisfying." —Booklist (starred review)
 
★ "An absorbing read with well-realized characters and beautiful writing, this novel will appeal to readers of science fantasy such as N.K. Jemisin's 'Broken Earth' trilogy." —SLJ (starred review)
 
"Well executed and resonant… this is not a simple post-apocalyptic novel but instead a quiet, philosophical exploration of humanity with a touch of science fiction around the edges. Defying strict genre categories, Arnold leaves readers wondering and unbalanced until the final page." —Kirkus Reviews

"With a haunting, deliberately paced tale of postapocalyptic survival, Arnold creates a devastated world held together by myth and memory." —Publishers Weekly

"Arnold wisely balances the novel's complex narrative with contemplative, lyrical prose. The writing here is so accessible and inviting that it's easy to get wrapped in the world he gives us — even when there's time travel, secret portals and mysterious identities." —The Nashville Scene