The Line Becomes a River: Dispatches from the Border (Hardcover)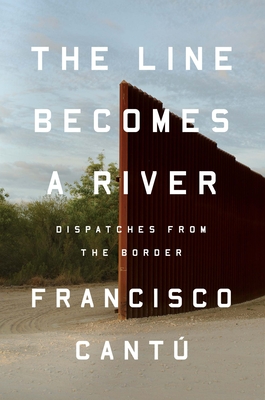 Staff Reviews
---
In The Line Becomes a River, Cantu tells of his time working as a border patrol at the Mexican border. Cantu encounters all kinds of people attempting to cross the border, many of whom barely survive, and many others who don't. He witnesses all kinds of violence and has brief but beautiful conversations with many of the Mexicans he meets. Cantu is Mexican-American, speaks fluent Spanish, and is able to make connections with many people who otherwise may remain hopeless and stuck in a broken system. He brings the light of humanity to an incredibly inhumane environment.
He is only on border patrol for four years because ensuing nightmares push him to resign. While Cantu doesn't shy away from the violence and deep inhumanity that plagues the border, he is able to remain beautifully poetic, insightful and kind about his coworkers, the horrors of the system, and the deep division between the U.S. and Mexico.
This is a necessary book for understanding how the line of a border between two countries can cause incredible damage, permanently divide families, and drive people to risk their lives to cross it. I highly recommend it for those interested in this subject and not, as this book is amazingly accessible with the perfect mix of memoir, history, philosophy and politics. Cantu's depth of writing will stay with you for a long while.
— Tyler
February 2018 Indie Next List
---
"Cantu personalizes the U.S.-Mexican border and all of its complexity in a way I've never seen. His writing is beautiful, with haunting and detailed descriptions of the desert, the immigrants, the cartels, and his own fears about violence and identity confusion. The criminalization of searching for a better life and the dehumanization of the process is looked at from several angles, and his journalistic approach does not make judgments, but clearly tells the facts. A great new writer to follow."
— Pat Marsello, Bookworks, Albuquerque, NM
Summer 2019 Reading Group Indie Next List
---
"In a personal search for the purpose and meaning behind the U.S.-Mexico border, Cantúreflects on his childhood rooted in the Southwest, his mother's immigration from Mexico, his scholarly studies, and others' stories about the border. He seeks work as a border patrol agent, thinking his language skills and cultural sensitivity will be of value, but his intense curiosity about life at the border becomes a harsh reality that haunts his dreams. A lifesaver in America's shallow rivers of rhetoric, Cantúenlightens readers on the endless American story of sacrifice and immigration with sharp insight and subtle lyricism."
— Lisa Newman, Lemuria Bookstore, Jackson, MS
Description
---
NAMED A TOP 10 BOOK OF 2018 BY NPR and THE WASHINGTON POST
WINNER OF THE LOS ANGELES TIMES BOOK PRIZE IN CURRENT INTEREST
FINALIST FOR THE NATIONAL BOOK CRITICS CIRCLE NONFICTION AWARD

The instant New York Times bestseller, "A must-read for anyone who thinks 'build a wall' is the answer to anything." --Esquire

For Francisco Cantú, the border is in the blood: his mother, a park ranger and daughter of a Mexican immigrant, raised him in the scrublands of the Southwest. Driven to understand the hard realities of the landscape he loves, Cantú joins the Border Patrol. He and his partners learn to track other humans under blistering sun and through frigid nights. They haul in the dead and deliver to detention those they find alive. Plagued by a growing awareness of his complicity in a dehumanizing enterprise, he abandons the Patrol for civilian life. But when an immigrant friend travels to Mexico to visit his dying mother and does not return, Cantú discovers that the border has migrated with him, and now he must know the full extent of the violence it wreaks, on both sides of the line.
About the Author
---
Francisco Cantú was an agent for the United States Border Patrol from 2008 to 2012, working in the deserts of Arizona, New Mexico, and Texas. A former Fulbright fellow, he is the recipient of a Pushcart Prize, a 2017 Whiting Award, and a 2018 Art for Justice fellowship. His writing and translations have been featured in The New York Times, Best American Essays, Harper's, and Guernica, as well as on This American Life. He lives in Tucson and coordinates the Southwest Field Studies in Writing Program at the University of Arizona.
Praise For…
---
"[The Line Becomes a River] lays bare, in damning light, the casual brutality of the system, how unjust laws and private prisons and a militarized border have shattered families and mocked America's myths about itself." —New York Times Book Review

"[Cantú] proves to be an astounding writer with this memoir for the moment." —Entertainment Weekly

"When the political rhetoric around the complex, ruggedly beautiful and scarred U.S.-Mexico borderlands is reduced to talk of a 30-foot concrete wall, it's time to take a more nuanced look at our southern border...The Line Becomes a River veers away from propaganda and stereotypes and into the wild deserts and mountains, and, especially, the hearts and minds of the people who traverse the increasingly militarized borderlands." —The Wall Street Journal

"A must-read for anyone who thinks 'build a wall' is the answer to anything." —Esquire

"[Cantú's] beautifully written account of a life between nations cuts through the politics surrounding "the wall" to probe what's really at stake." —O, the Oprah  Magazine
 
"A book that whips across your face like a sandstorm, embedding bits of the desert into your skin that, like it or not, you'll carry forward." —San Francisco Chronicle

"Exquisitely nuanced...explains the conflicted journey of a border crosser with an impressive level of compassion, self-reflection, and conviction." —NBC News

"If you read one book on immigration this year, choose The Line Becomes a River." —Denver Post

"The wall that separates us is high and wide, but as Cantú's memoir shows us, there is still a way around it." —Los Angeles Review of Books
 
"The best book on immigration you will read this year…honest, gripping and wonderfully written." —Mother Jones

"By coming to better understand Cantú's fixation with the border, readers of his book are brought into that suspension, prompted -- if not outright required -- to experience what it's like to exist in-between, knowing no amount of politics or prayer can give a hard question easy answers." —CNN

"An intense and captivating memoir of dreams, divisions, and death at the border." –Christian Science Monitor

"Read enough op-eds and takes and tweets about the border, and you can start to forget that it's a real place….Francisco Cantú has written an insistently humane book, or maybe just a human one….It's an exploration of how the border feels, and what happens to the people who get caught in its gears." —Bookforum

"A poetic and empathetic work whose message — the border is built on an imaginary line, but its impact on the people who cross it, or can't, is real — feels more urgent this year than ever." —Salon

"Raw and timely confessional… A striking picture of the unsparing borderlands." —Minneapolis Star-Tribune

"Beautiful, eloquent and timely...[Cantú's] your correspondent if you want the real story." —Cleveland Plain Dealer

"Woven throughout his personal story is a deep body of research and critical analysis that seeks to explain how the status quo came to be. And while reasonable minds can disagree on whether he's succeeded, Cantú, in both his book and public comments, has clearly attempted to address the underlining conditions that made his experience what it was, along the way demonstrating a willingness to publicly challenge the mission of his former employer." —The Intercept

"A powerful, harrowing view of the border — a no man's land where no one returns the same. Run, don't walk, to your bookstore." —KQED 

"A beautifully-crafted question; the answer has yet to be written." —NPR

"Sharply political and deeply personal." —New York Magazine

"[Cantú's] compelling, tragic account may help to break down the wall for others, too." —The Economist
 
"Spare, graceful, and full of the details that propel a good story… [Cantú's]life on the line has made him the kind of expert we need to hear from." —Boston Globe

"Cantú's confessions mimic the desert landscape he patrols: haunting but elegant, with glimmers of humor for reprieve … The achievement of this book is how deftly Cantú reels us in, cold and wet behind him."  —Texas Observer

"This work may determine for future generations what building a wall does to magnify the heartache of plight and flight, of people moving between nation and nationality…without the agency to define it themselves." —LitHub

"Every single person in this country — near borderlands or not — should read this book, and realize that immigration cannot be solved with a single policy." —Chicago Review of Books
 
"Full of insights into the migrant experience." —Financial Times

"This beautiful and horrifying memoir should be required reading."  —NY Journal of Books

"Cantú interrogates one of the thorniest subjects in contemporary America and finds his mother's warning to be true: 'We learn violence by watching others, by seeing it enshrined in institutions.'" 
—The Week

"[Adds] new depths to one of the most controversial issues of our modern times: the Mexican border." —PopSugar

"Beautiful and brutal."—High Country News

"Fresh, urgent...A devastating narrative of the very real human effects of depersonalized policy." —Kirkus Reviews (starred)

"Cantú's rich prose and deep empathy make this an indispensable look at one of America's most divisive issues."  —Publisher's Weekly (starred)

"A personal, unguarded look at border life from the perspective of a migrant and agent, recommended for those wishing to gain a deeper understanding of current events." —Library Journal
 
"There is a line dividing what we know and do not know.  Some see the world from one shore and some from the other.  Cantú brings the two together to a spiritual whole.  My gratitude for this work of the soul." —Sandra Cisneros

"A beautiful, fiercely honest, and nevertheless deeply empathetic look at those who police the border and the migrants who risk – and lose -- their lives crossing it. In a time of often ill-informed or downright deceitful political rhetoric, this book is an invaluable corrective." —Phil Klay, author of Redeployment

"Francisco Cantu's story is a lyrical journey that helps bridge the jagged line that divides us from them. His empathy reminds us of our humanity -- our immigrant history -- at a critical time." —Alfredo Corchado, journalist, author of Midnight in Mexico

"Cantú's story, and intelligent and humane perspective, should mortify anyone who ever thought building a wall might improve our lot. He advocates for clarity and compassion in place of xenophobia and uninformed rhetoric. His words are emotionally true and his literary sensibility uplifting." —Barry Lopez, author of Arctic Dreams and Of Wolves and Men
 
"This book tells the hard poetry of the desert heart. If you think you know about immigration and the border, you will see there is much to learn. And you will be moved by its unexpected music."—Luis Alberto Urrea, author of The Devil's Highway
Coverage from NPR