Norma Jeane Baker of Troy (Paperback)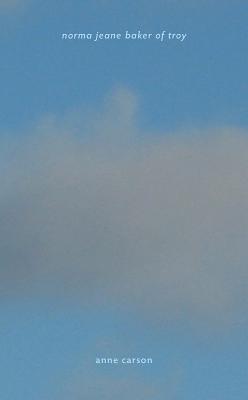 Staff Reviews
---
A woven tale of the woman harlot/heroine and the wars we wage/fight. Pure genius. I could not stop quoting from this little but mighty book. This is just one of my favorite passages:
"If you pick a flower, if you snatch a handbag, if you possess a woman, if you plunder a storehouse, ravage a countryside or occupy a city, you are a taker. You are taking. In ancient Greek you use the verb λαμβάνω [sic] which comes over to Latin as rapio, rapere, raptus sum and gives us English rapture and rape—words stained with the very early blood of girls, with the very late blood of cities, with the hysteria of the end of the world. Sometimes I think language should cover its own eyes when it speaks." —p. 25
— Sam
Description
---
Anne Carson's new work that reconsiders the stories of two iconic women—Marilyn Monroe and Helen of Troy—from their point of view
Norma Jeane Baker of Troy
is a meditation on the destabilizing and destructive power of beauty, drawing together Helen of Troy and Marilyn Monroe, twin avatars of female fascination separated by millennia but united in mythopoeic force. Norma Jeane Baker was staged in the spring of 2019 at The Shed's Griffin Theater in New York, starring actor Ben Whishaw and soprano Renée Fleming and directed by Katie Mitchell.
About the Author
---
Anne Carson was born in Canada and teaches ancient Greek for a living.
Praise For…
---
"This little grenade of a book is difficult to categorize. It's a performance piece and a treatise on war and beauty, reality and fakery, bombshell and bombing—with ancient Greek etymology lessons woven in to show us how the small and everyday becomes epic, and vice versa. Marilyn Monroe (neé Norma Jeane Baker) is fused here with Helen of Troy, and elements of both milieus—Homer and Hollywood—populate the narrative. It's easy to imagine the blunt beauty of Carson's language being spoken and sung on stage."
— Barbara Engel

This book fuses poetry, fun Greek history lexicon lessons, Helen, and Marilyn. 'War creates two categories of persons: those who outlive it and those who don't.//Both carry wounds.' Delicious couplets. There are dancers who have internalized the music to such a high vibration that they no longer fit into a strict categorization for what they do. They weave with the music in an ancient alien way. Anne Carson brings intergalactic musical moves to the written page. 'Hermione it's me, hello hello hello hello hello.' I dare you to get to that line and not ache. How does an artist write this way? Brilliance and cherries light her stage
— Young Eun Yook

"Carson at her best: arresting, exact, at once surprising and unsurprised. She depends on Euripides throughout, but pushes him further than he was prepared to go."
— Jeff Dolven

There is a stark awareness nowadays that we need new
ways of thinking about female icons like Helen or Marilyn Monroe, new ways to
revolve the traditional male version of such events 360 degrees and find
different, deeper sorrows there.
— Anne Carson