In My Unknowing: Poems (Pitt Poetry Series) (Paperback)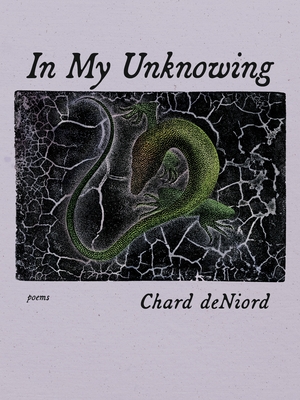 Description
---
In his new poetry collection, Chard deNiord explores the paradoxical nature of unknowing.

I WEPT WITH JOY ABOVE THE RIVER

I wept with joy above the river.
I wept with sorrow above the river.
My tears were clear, both sweet and bitter.
One leaf cried out to another,
"Empty me today of all my color.
Fill me tomorrow with a shot of sugar."
This was the still ritual for my feet:
To stand on the earth that took of earth earth with ill and sing.
About the Author
---
Chard deNiord is cofounder of the New England College MFA program in poetry. He is the author of the poetry collections Asleep in the Fire, Sharp Golden Thorn, Night Mowing, The Double Truth, and Interstate. His book Sad Friends, Drowned Lovers, Stapled Songs is a collection of interviews with American poets. His second collection of interviews with poets is I Would Lie to You if I Could: Interviews with Ten American Poets.
Praise For…
---
Past Praise for Chard deNiord  
"
Interstate
seamlessly connects the state of knowing, in a worldly sense, to that knowing that is deeply felt yet unbodied. The precise attention to the ordinary things of the world, and in particular to the natural world, gives way to the wisdom of the spirit undergirding these searching poems. Reading them, I felt the delights of language in each new revelation:
Words were all; / they came to me like birds to a tree."
—Natasha Trethewey  
Past Praise for Chard deNiord
"'History, you know, is one thing and our lives are something else,' wrote Octavio Paz, and Chard deNiord's response to this in
The Double Truth
is both fascinating and instructive. The voice in these poems seems to have a cunning ability to see oneself as if from a distance. This is compelling, beautiful poetry."—Ilya Kaminsky  
Past Praise for Chard deNiord
"Here is a poet with a truly extraordinary verbal imagination. His poems begin in the commonplace and rise-or soar, leap, swell-to the climactic surreal in a few lines. This is aptitude beyond technique, unassailable by the workshopping greenhorns. It is indeed a kind of ecstasy for every and any reader. I recommend Chard deNiord's
Night Mowing
as enthusiastically as I can."—Hayden Carruth  
"'The force that gives us meaning/is terrible, bloody and sweet,' writes Chard deNiord in his astonishing new book In My Unknowing. DeNiord is a true spiritual visionary, which is to say there are no dialed-in answers, no self-defense, the stakes are sky-high, and everything happens in real time. The voice can be ecstatic or lacerated: it's also funky, humane, topical, grounded. The cloud of unknowing can waft from a fine cigar. Lovers at a drive-in are moved to discover the night sky. A self-imposed chore reveals '[...] the lamp of internal difference that needs/the spark of my seeing anew to light its mantel.'

Always, Earth is the place of transformation. If ever there was a poet who answered the command in Rilke's Ninth Elegy it's deNiord. It's thrilling how much he expects of language and experience, how little he takes for granted... In My Unknowing is charged with the pang of the insoluble mysteries: dreams, waking, the face of the one you love."—Dennis Nurkse
"
In My Unknowing,
Chard deNiord's sixth collection of poems, we find ourselves in a world beheld by
the spark of seeing,
on the border of Platonic emission: a world of
salt sorrow
and
red lust,
coterminous with everything at once. To read these poems is to float at a holy distance over the earth, herein recognized as the heaven it has always been, as
no other place would do for living forever.
It is a world about to evanesce, but is as yet legible to us in these masterful poems, which are in themselves a species of musical awareness."—Carolyn Forché     
"Oh, there is all manner of praiseworthy stuff here which, you, dear reader, owe it to yourself to savor. But if you are a type whose curiosity is piqued by long five-star reviews, simply assume that you've just read one."
—On the Seawall
"
In My Unknowing
confronts the terror, confusion, and grace of mortality—but rather than prescribe answers, the poems ruminate on possible meanings, searching for signs."
—Vermont's Independent Voice