Trout Streams of Northern New England: A Guide to the Best Fly-Fishing in Vermont, New Hampshire, and Maine (Paperback)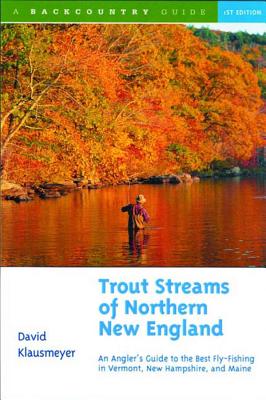 $19.95
Usually Ships in 1-5 Days
Description
---
A comprehensive new guide to the best fly-fishing for trout and landlocked salmon in Vermont, New Hampshire, and Maine.
Northern New England is known for its many beautiful lakes, rivers, and streamsand for outstanding fly-fishing. From Vermont's Battenkill, to the headwaters of the mighty Connecticut in New Hampshire, to the Kennebec and Penobscot Rivers in Maine, David Klausmeyer has investigated the far reaches of northern New England to recommend the very best fly-fishing for trout and landlocked salmon. With his years of experience as a researcher, writer, and editor for several national fly-fishing magazines, Klausmeyer knows what to look for in a trout stream, where to find the best stretches of water and avoid crowds, and, most importantly, what every angler needs from a good guide. Features of this thoroughly researched, opinionated book include descriptions of the best waters and little-known tributaries worth exploring, and recommendations on local hatches and fly patterns, as well as detailed access directions and listings of local fly shops. Includes local hatch charts and fly patterns. 30 black and white photographs 25 maps Index
About the Author
---
David Klausmeyer has been the editor in chief of Fly Tyer magazine for fifteen years. He has written numerous books and articles about fly tying, and now does blogs and webcasts about them as well. His tying techniques are well known among tiers.