The Headmaster's Wife: A Novel (Paperback)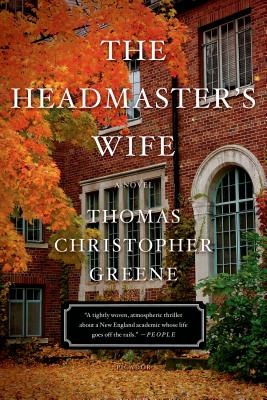 List Price: $15.00
Our Price: $13.50
(Save: $1.50 10%)
Usually Ships in 1-5 Days
Description
---
"Part of a grand literary tradition . . . Greene's plot has the tight, relentless pacing of a fine detective novel . . . Deeply felt . . . and utterly absorbing."—The Washington Post

Like his father before him, Arthur Winthrop is the headmaster of Vermont's elite Lancaster School. It is the place he feels has given him his life, but is also the site of his undoing as events spiral out of his control. Found wandering naked in Central Park, he begins to tell his story to the police, but his memories collide into one another, and the true nature of things, a narrative of love, of marriage, of family, and of a tragedy Arthur does not know how to address emerges. Luminous and atmospheric, bringing to life the tight-knit enclave of a quintessential New England boarding school, the novel is part mystery, part love story, and an exploration of the ties of place and family. Beautifully written and compulsively readable, The Headmaster's Wife stands as a moving elegy to the power of love as an antidote to grief.
About the Author
---
THOMAS CHRISTOPHER GREENE is the author of Mirror Lake, I'll Never be Long Gone, and Envious Moon. His fiction has been translated into eleven languages and has won many awards and honors. In 2007, Tom founded the Vermont College of Fine Arts, a top fine arts college, making him the youngest college president in America at that time. He lives in Montpelier, VT, with his family.
Praise For…
---
"A tightly woven, atmospheric thriller about a New England academic whose life goes off the rails." —People
"Part of a grand literary tradition . . . Greene's plot has the tight, relentless pacing of a fine detective novel . . . Deeply felt . . . and utterly absorbing." —The Washington Post
"Had me hooked from page one . . . This wise, tender, and gracefully executed literary thriller will no doubt bewitch you too." —Redbook
"Haunting . . . twists back in time through love, grief, betrayal, and love again." —Good Housekeeping
"A truly remarkable novel." —Richard Russo, Pulitzer Prize–winning author of Empire Falls
"An accomplished and artful storyteller, Greene has surprises in store as he unspools a plot that becomes as poignant as it is unpredictable." —Wally Lamb, New York Times bestselling author of We Are Water
"Greene's genre-bending novel of madness and despair evokes both the predatory lasciviousness of Nabokov's classic, Lolita, and the anxious ambiguity of Gillian Flynn's contemporary thriller, Gone Girl (2012)." —Booklist
"Nothing is what it appears in this brilliant story of a life gone awry … The author's true intentions make this tale even more remarkable, for the book is, at its core, a trenchant examination of one family's terrible loss and how the aftermath of tragedy can make or break a person's soul." —Publishers Weekly
"Greene has created a brilliant, harrowing novel depicting the spectacular unraveling of a once distinguished and proudly successful man. He has also conceived one of the most convincingly drawn unreliable narrators that readers may ever meet, a character recalling the creations of Edgar Allan Poe . . . This is a riveting psychological novel about loss and the terrible mistakes and compromises one can make in love and marriage. Essential for fans of literary fiction." —Library Journal (Starred Review)
"A moving testament to the vicissitudes of love and loss, regret and hope." —Kirkus
"Incredibly beautiful and compulsively readable, The Headmaster's Wife will keep you mesmerized into the wee hours. A master storyteller, Greene's biggest achievement is proving that the most complex mystery of all is how and why we love." —Kimberly McCreight, New York Times bestselling author of Reconstructing Amelia
"I devoured this book. It has all the hooks – a mystery, a marriage, an investigation, a loss, a close-up of a society I'm not privy to--and yet, at its heart, there are unexpected love stories embedded within. Thomas Christopher Greene is a wonderfully accomplished novelist, and The Headmaster's Wife is both psychologically complex and wickedly fast-paced." —Julianna Baggott, New York Times bestselling author of Pure