A Rumor of War: The Classic Vietnam Memoir (40th Anniversary Edition) (Paperback)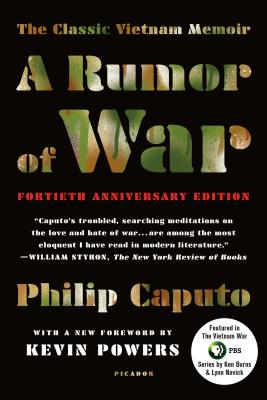 Staff Reviews
---
Thrilling, harrowing, and ultimately heartbreaking, A Rumor of War is Philip Caputo's classic account of his year-long combat tour during the early years of the Vietnam War. As a frighteningly young Lieutenant commanding a unit of even younger Marines, the book follows his unit's trajectory from idealistic patriots to weary cynics and their eventual descent into savagery. It can be hard to read—and is certainly graphic—but to anyone interested in that sad chapter in American and Vietnamese history, this utterly compelling memoir belongs on the shelf between Tim O'Brien's The Things They Carried and Neil Sheehan's A Bright Shining Lie. 
— Chris
Description
---
The 40th anniversary edition of the classic Vietnam memoir—featured in the PBS documentary series The Vietnam War by Ken Burns and Lynn Novick—with a new foreword by Kevin Powers

In March of 1965, Lieutenant Philip J. Caputo landed at Danang with the first ground combat unit deployed to Vietnam. Sixteen months later, having served on the line in one of modern history's ugliest wars, he returned home—physically whole but emotionally wasted, his youthful idealism forever gone.

A Rumor of War is far more than one soldier's story. Upon its publication in 1977, it shattered America's indifference to the fate of the men sent to fight in the jungles of Vietnam. In the years since then, it has become not only a basic text on the Vietnam War but also a renowned classic in the literature of wars throughout history and, as the author writes, of "the things men do in war and the things war does to them."

"Heartbreaking, terrifying, and enraging. It belongs to the literature of men at war." —Los Angeles Times Book Review
About the Author
---
Philip Caputo is an award-winning journalist—the co-winner of a Pulitzer Prize—and the author of many works of fiction and nonfiction, including A Rumor of War, one of the most highly praised books of the twentieth century. His book, The Longest Road, was a New York Times bestseller. His novels include Acts of Faith, The Voyage, Horn of Africa, Crossers, and Some Rise by Sin. He and his wife, Leslie Ware, divide their time between Norwalk, Connecticut, and Patagonia, Arizona.
Praise For…
---
"Caputo's troubled, searching meditations on the love and hate of war . . . are among the most eloquent I have read in modern literature." —William Styron, The New York Review of Books

"[A Rumor of War] is unparalleled in its honesty, unapologetic in its candor, and singular in its insights into the minds and hearts of men in combat. . . . As powerful to read today as the day it was published." —Kevin Powers, author of Yellow Birds, from the Foreword

"A singular and marvelous work." —Christopher Lehmann-Haupt, The New York Times

"To call it the best book about Vietnam is to trivialize it. Heartbreaking, terrifying, and enraging, it belongs to the literature of men at arms." —John Gregory Dunne, Los Angeles Times Book Review

"A Rumor of War is the troubled conscience of America speaking passionately, truthfully, and finally." —Theodore Solotaroff, The New York Times Book Review

"Caputo's searing account of life for an American at the end of a barrel of a gun is a classic." —The Guardian (London)

"I hope many people in a position to affect future diplomatic and military moves will keep Caputo's book by their bedside. It is tough and honest; it is so honest it makes the attraction of combat understandable. This is not a simple book. It may even be profound." —Margaret Manning, The Boston Globe

"Only a warrior could have written A Rumor of War; warrior, honest man, powerful writer. His book is a grim triumph, and will live." —Stephen Becker, Chicago Daily News

"In this powerful book, Caputo does what most of us have yet to do: face the enemy within and overcome the wounds." —Peter J. Ognibene, The Washington Post Book World

"A book that must be read and reread—if for no other reason than as an eloquent statement against war. It is a superb book." —Terry Anderson, The Denver Post

"This is news that goes beyond what the journalists brought us, news from the heart of darkness. It was long overdue." —Newsweek

"A superb macabre evocation of those aimless searches and the destruction not only of property but of men's bodies and minds as well. . . . At times, it is hard to remember that this is not a novel." —William Shawcross, New Statesman

"This is a story of courage, comradeship, horror, and corruption, and at the same time a moving and bitter testimony. . . . Vivid, real, searchingly honest, it's war writing of a high order." —Publishers Weekly

"A Rumor of War is not only precious for its moral depth and gravity, it is also a battle narrative of the first rank." —Geoffrey Wolff, New Times

"Every war seems to find its own voice: Caputo, it seems to me, is an eloquent spokesman for all we lost in Vietnam." —C. D. B. Bryan, Saturday Review

"This is the hardest review I have ever had to write. I can tell you that A Rumor of War is the most daunting and significant personal account yet generated by our great dishonor, Vietnam. . . . Yes, but would you read it? Oh, I'd like to have authority over your life. For just this moment. To hit you across the mouth, take your first-born child, invalidate your credit cards, whatever, if you don't read A Rumor of War. I am that sick with passion for this book." —D. Keith Mano, National Review

"Not since Siegfried Sassoon's classic of World War I, Memoirs of an Infantry Officer, has there been a war memoir so obviously true, and so disturbingly honest." —William Broyles, Texas Monthly