Five Midnights (Hardcover)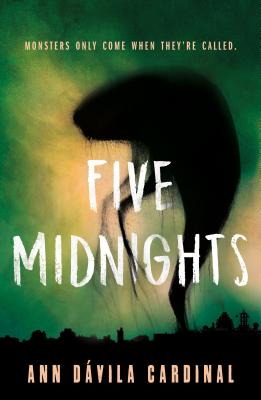 $17.99
Usually Ships in 1-5 Days
Pre-order now for a personalized, signed copy of Five Midnights!
Description
---
Ann Dávila Cardinal's Five Midnights is a "wickedly thrilling" (William Alexander) and "flat-out unputdownable" (Paul Tremblay) novel based on the el Cuco myth set against the backdrop of modern day Puerto Rico.
2019 Digital Book World Award Winner for best Suspense/Horror Book
Five friends cursed. Five deadly fates. Five nights of retribución.
If Lupe Dávila and Javier Utierre can survive each other's company, together they can solve a series of grisly murders sweeping though Puerto Rico. But the clues lead them out of the real world and into the realm of myths and legends. And if they want to catch the killer, they'll have to step into the shadows to see what's lurking there—murderer, or monster?
"A frightening, fast-paced thriller." —Julianna Baggott, Alex Award-winning author of Pure
About the Author
---
Ann Dávila Cardinal is a novelist and Director of Recruitment for Vermont College of Fine Arts (VCFA) where she also earned her MFA in Writing. She comes from a long line of Puerto Rican writers, including poets Virgilio and José Antonio Dávila, and her cousin, award-winning fiction writer Tere Dávila. Ann lives in Vermont with her husband Doug where she needle felts small reading creatures, and bikes four seasons a year. Five Midnights is her first solo novel.
Praise For…
---
2019 Digital Book World Award Winner for best Suspense/Horror Book
"I looooove. This novel set in Puerto Rico is inspired by a Latinx boogeyman myth.... Lupe and numerous other characters are indeed sassy AF and the narrator gets their attitudes, accents, and inflections so, so right." —BookRiot
"Five Midnights combines Puerto Rican mythology with a thrilling mystery. The members of your book club will love trying to solve this one as they read." —Bustle
"Dávila Cardinal brings both the colorful culture as well as the struggles of Puerto Rico to life.... Five Midnights is a thrilling spin on legendary source material as well as a study in identity, community, and connection. A story that lingers in sinister shadows." —Kirkus Reviews
"Five Midnights is wickedly thrilling." —William Alexander, National Book Award winner and NYT bestselling author of Goblin Secrets
"Between the threat of an enigmatic monster and an escalating murder mystery, Five Midnights is a novel that kept me up late. As much as it is a frightening, fast-paced thriller, it's also a love story. Lupe and Javier are characters I rooted for, at every dark twist and chilling turn." —Julianna Baggott, Alex Award-winning author of Pure
"Ann Dávila Cardinal's inventive Five Midnights is topical, fun, frightening, and flat-out unputdownable. You'll want to follow Lupe and Javier all over Puerto Rico. Do keep an eye out for El Cuco, though. Especially at night, and after you turn off the lights." —Paul Tremblay, author of The Cabin at the End of the World
"You're in for a suspenseful ride through some very thrilling Puerto Rican lore." —Locus