You Should See Me in a Crown (Hardcover)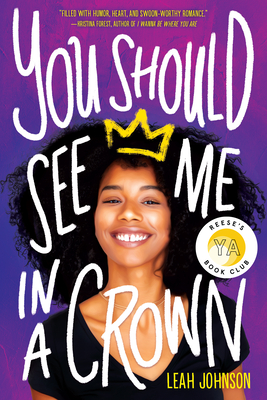 $17.99
Not in stock at Bear Pond: usually arrives in 2-3 days
Staff Reviews
---
Here is the novel that will restore your faith in humanity in spades. In Campbell, Indiana, being crowned prom royalty is the ultimate recognition. And this year Liz Lighty needs to win that crown because it happens to be attached to an academic scholarship she desperately needs. The cards are stacked against her: she struggles with anxiety, poverty and grief, all while being queer and Black in a staunchly traditional white culture. Alaska Jackson's narration infuses these fresh voices with nuance and vitality. Liz Lighty's journey to finding her voice and claiming her power in a midwestern town that has historically never made space for 'outliers' is a jubilant one that we are so lucky to take alongside her.  
— Jane
Description
---
A Stonewall Honor Book!
A Reese's Book Club YA Pick!
Liz Lighty has always believed she's too black, too poor, too
awkward
to shine in her small, rich, prom-obsessed midwestern town. But it's okay -- Liz has a plan that will get her out of Campbell, Indiana, forever: attend the uber-elite Pennington College, play in their world-famous orchestra, and become a doctor.But when the financial aid she was counting on unexpectedly falls through, Liz's plans come crashing down . . . until she's reminded of her school's scholarship for prom king and queen. There's nothing Liz wants to do less than endure a gauntlet of social media trolls, catty competitors, and humiliating public events, but despite her devastating fear of the spotlight she's willing to do whatever it takes to get to Pennington.The only thing that makes it halfway bearable is the new girl in school, Mack. She's smart, funny, and just as much of an outsider as Liz. But Mack is also in the running for queen. Will falling for the competition keep Liz from her dreams . . . or make them come true?
About the Author
---
Leah Johnson is a writer, editor and eternal Midwesterner, currently moonlighting as a New Yorker. She is a graduate of Indiana University and Sarah Lawrence College, where she received her MFA in fiction writing, and currently teaches in their undergraduate writing program. When she's not writing, you can usually find her on Twitter, ranting about pop culture and politics. You Should See Me in a Crown is her first novel.
Praise For…
---
Praise for You Should See Me in a Crown:
A Reese's Book Club YA Pick
A Junior Library Guild Selection
A Well-Read Black Girl June Book Club YA Book Pick
* "Pitch perfect romcom...The queer prom romance you didn't know you needed." -- Kirkus Reviews, starred review
"Johnson's pacing is perfect as the story unwinds at dizzying speed...Readers will fall in love with this refreshing book that celebrates the beauty of individuality." -- School Library Journal
"Johnson puts a fresh spin on this novel with an unlikely romance, heartwarming friendships, and the tension of being Black, poor, and queer in a small town. A feel-good title for sure." -- Booklist
"Filled with humor, heart, and swoon-worthy romance." -Kristina Forest, author of I Wanna Be Where You Are
"A love story worthy of a crown." -Mason Deaver, author of I Wish You All the Best
"With characters I adore and a romance that brought tears to my eyes, You Should See Me in a Crown absolutely stole my heart." -Kacen Callender, author of This Is Kind of an Epic Love Story and Felix Ever After
"You know when a book is like the ideal friend? You Should See Me in a Crown is that kind of book. Juicy, sharp, romantic, big-hearted, real. I loved it." -Anna Godbersen, author of the New York Times bestselling Luxe series
"You Should See Me in a Crown is a powerful, absolutely relatable story that reminds Black, queer girls they have the power to do anything they want." -Camryn Garrett, author of Full Disclosure
"With a refreshing voice and an unforgettable main character, Leah Johnson has written a stunning debut. Liz Lighty is smart and hilarious." -Sabina Khan, author of The Love and Lies of Rukhsana Ali
Praise for You Should See Me in a Crown:
A Reese's Book Club YA Pick
A Junior Library Guild Selection
A Well-Read Black Girl June Book Club YA Book Pick
* "Pitch perfect romcom...The queer prom romance you didn't know you needed." -- Kirkus Reviews, starred review
"Johnson's pacing is perfect as the story unwinds at dizzying speed...Readers will fall in love with this refreshing book that celebrates the beauty of individuality." -- School Library Journal
"Johnson puts a fresh spin on this novel with an unlikely romance, heartwarming friendships, and the tension of being Black, poor, and queer in a small town. A feel-good title for sure." -- Booklist
"Filled with humor, heart, and swoon-worthy romance." -Kristina Forest, author of I Wanna Be Where You Are
"A love story worthy of a crown." -Mason Deaver, author of I Wish You All the Best
"With characters I adore and a romance that brought tears to my eyes, You Should See Me in a Crown absolutely stole my heart." -Kacen Callender, author of This Is Kind of an Epic Love Story and Felix Ever After
"You know when a book is like the ideal friend? You Should See Me in a Crown is that kind of book. Juicy, sharp, romantic, big-hearted, real. I loved it." -Anna Godbersen, author of the New York Times bestselling Luxe series
"You Should See Me in a Crown is a powerful, absolutely relatable story that reminds Black, queer girls they have the power to do anything they want." -Camryn Garrett, author of Full Disclosure
"With a refreshing voice and an unforgettable main character, Leah Johnson has written a stunning debut. Liz Lighty is smart and hilarious." -Sabina Khan, author of The Love and Lies of Rukhsana Ali