The Line Becomes a River: Dispatches from the Border (Large Print / Library Binding)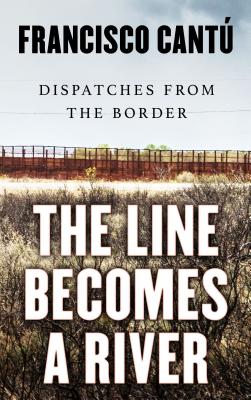 Staff Reviews
---
In The Line Becomes a River, Cantu tells of his time working as a border patrol at the Mexican border. Cantu encounters all kinds of people attempting to cross the border, many of whom barely survive, and many others who don't. He witnesses all kinds of violence and has brief but beautiful conversations with many of the Mexicans he meets. Cantu is Mexican-American, speaks fluent Spanish, and is able to make connections with many people who otherwise may remain hopeless and stuck in a broken system. He brings the light of humanity to an incredibly inhumane environment.
He is only on border patrol for four years because ensuing nightmares push him to resign. While Cantu doesn't shy away from the violence and deep inhumanity that plagues the border, he is able to remain beautifully poetic, insightful and kind about his coworkers, the horrors of the system, and the deep division between the U.S. and Mexico.
This is a necessary book for understanding how the line of a border between two countries can cause incredible damage, permanently divide families, and drive people to risk their lives to cross it. I highly recommend it for those interested in this subject and not, as this book is amazingly accessible with the perfect mix of memoir, history, philosophy and politics. Cantu's depth of writing will stay with you for a long while.
— Tyler
February 2018 Indie Next List
---
"Cantu personalizes the U.S.-Mexican border and all of its complexity in a way I've never seen. His writing is beautiful, with haunting and detailed descriptions of the desert, the immigrants, the cartels, and his own fears about violence and identity confusion. The criminalization of searching for a better life and the dehumanization of the process is looked at from several angles, and his journalistic approach does not make judgments, but clearly tells the facts. A great new writer to follow."
— Pat Marsello, Bookworks, Albuquerque, NM
Summer 2019 Reading Group Indie Next List
---
"In a personal search for the purpose and meaning behind the U.S.-Mexico border, Cantúreflects on his childhood rooted in the Southwest, his mother's immigration from Mexico, his scholarly studies, and others' stories about the border. He seeks work as a border patrol agent, thinking his language skills and cultural sensitivity will be of value, but his intense curiosity about life at the border becomes a harsh reality that haunts his dreams. A lifesaver in America's shallow rivers of rhetoric, Cantúenlightens readers on the endless American story of sacrifice and immigration with sharp insight and subtle lyricism."
— Lisa Newman, Lemuria Bookstore, Jackson, MS
Description
---
"A must-read for anyone who thinks "build a wall" is the answer to anything." --Esquire For Francisco Cant , the border is in the blood: his mother, a park ranger and daughter of a Mexican immigrant, raised him in the scrublands of the Southwest. Haunted by the landscape of his youth, Cant joins the Border Patrol. He and his partners are posted to remote regions crisscrossed by drug routes and smuggling corridors, where they learn to track other humans under blistering sun and through frigid nights. They haul in the dead and deliver to detention those they find alive. Cant tries not to think where the stories go from there. Plagued by nightmares, he abandons the Patrol for civilian life. But when an immigrant friend travels to Mexico to visit his dying mother and does not return, Cant discovers that the border has migrated with him, and now he must know the whole story. Searing and unforgettable, The Line Becomes a River goes behind the headlines, making urgent and personal the violence our border wreaks on both sides of the line.