L' Immense Valise de Valérie (Robert Munsch) (Paperback)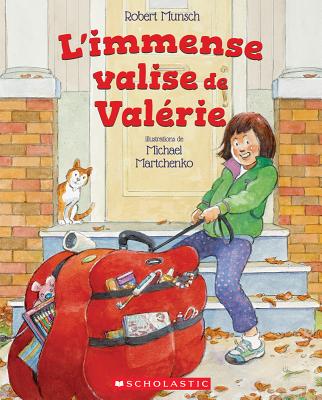 $8.99
Email or call for price.
Description
---
See below for English description.
Les parents de Val rie sont's par's. Ce serait beaucoup plus facile pour elle si elle ne devait pas passer constamment de la maison de sa m re celle de son p re. En effet, chaque semaine, elle doit faire le trajet entre les deux maisons avec sa valise. Elle doit transporter de plus en plus de choses, parce qu'elle ne veut pas laisser derri re ses livres pr f r's, son cadre pr f r , son oreiller pr f r , ou m me... son animal de compagnie pr f r
Val rie thinks she should live in one house and her mom and dad should visit her. Instead, she puts her books and her unicorn picture and her favourite pillow in her suitcase and takes them with her as she goes back and forth. But what will happen when she decides to pack up the dog?
A charming story about a girl making the best of her co-parenting situation, and the mom and dad (and dog ) who love her.
Robert Munsch wrote this story for a girl in Calgary, Alberta, who wrote to him and asked for a story about a girl going back and forth to her mom and dad's separate homes, just like her.
Original title: The Enormous Suitcase