The Good Thieves (Hardcover)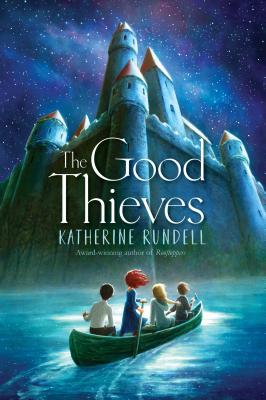 List Price: $17.99
Our Price: $16.19
(Save: $1.80 10%)
Usually Ships in 1-5 Days
Description
---
"A dazzling tale of wild hope, lingering grief, admirable self-sufficiency, and intergenerational adoration." —Publishers Weekly (starred review)
"Vita tests her own limits, and readers will thrill at her cleverness, tenacity, and close escapes." —Booklist
"A satisfying adventure." —Kirkus Reviews

From award-winning author Katherine Rundell comes a fast-paced, sharp-turning, and utterly thrilling adventure, one driven at its heart by an extraordinarily powerful evocation of the loyalty and love between a grandfather and his granddaughter.

Fresh off the boat from England, Vita Marlowe has a job to do. Her beloved grandfather Jack has been cheated out of his home and possessions by a notorious conman with Mafia connections. Seeing Jack's spirit is broken, Vita is desperate to make him happy again, so she devises a plan to outwit his enemies and recover his home. She finds a young pickpocket, working the streets of the city. And, nearby, two boys with highly unusual skills and secrets of their own are about to be pulled into her lawless, death-defying plan.

Katherine Rundell's fifth novel is a heist as never seen before—the story of a group of children who will do anything to right a wrong.
About the Author
---
Katherine Rundell is the author of Rooftoppers, Cartwheeling in Thunderstorms (a Boston Globe–Horn Book Award winner), The Wolf Wilder, The Explorer, and The Good Thieves. She grew up in Zimbabwe, Brussels, and London, and is currently a Fellow of All Souls College, Oxford. She begins each day with a cartwheel and believes that reading is almost exactly the same as cartwheeling: it turns the world upside down and leaves you breathless. In her spare time, she enjoys walking on tightropes and trespassing on the rooftops of Oxford colleges.
Praise For…
---
* "A dazzling tale of wild hope, lingering grief, admirable self-sufficiency, and intergenerational adoration."
— Publishers Weekly, STARRED REVIEW

"Vita tests her own limits, and readers will thrill at her cleverness, tenacity, and close escapes."
— Booklist

"A satisfying adventure."
— Kirkus Reviews

"A solid historical novel that balances moments of introspection with an action-packed plot in a well-developed setting."
— The Horn Book Magazine

"Rundell's work could be book talked as a read alike for those who loved The War That Saved My Life or a modern day rendition of Robin Hood."
— School Library Connection

"Fast-paced and sharply written, with a generous dose of heart and humor, Rundell's fifth novel will appeal to readers with a penchant for grand escapades, a strong sense of justice and a soft spot for the underdog."
— BookPage

"With its rollicking crime plot, this is perhaps the most accessible of Rundell's novels — and if you have yet to discover her, it's a good place to start. It's likely to be the best children's book you'll read this year."
— Childrens Book of the Week, The Times

"A lovely story of friendship and adventure. A general purchase for medium and large libraries, and a natural choice wherever Rundell's other books fly off the shelves."
— School Library Journal

"Fans of the '20s, noir detective fiction, and heists will find an excellent compound of those elements here."
— BCCB

"This is as compelling as an Enid Blyton circus caper – if Blyton had written with inclusive compassion and the sort of limpid, elegant prose it's a pleasure to sink into… Purring mafiosi, breathtaking feats of nerve and a crackling sense of atmosphere throughout make this book a single-sitting treat, showcasing Rundell at the peak of her powers."
— Imogen Russell Williams, Guardian

"Rundell orchestrates the fast-paced, thrilling action and vivid, endearing characters with the precision of a watchmaker."
— Daily Mail

"With a gripping plot and unforgettable characters, Rundell's latest is another triumph."
— Childrens Book of the Month, Mail on Sunday

"The Good Thieves is another suspenseful and beautifully written book that will delight Rundell fans."
— Daily Telegraph

"Rundell's books are as breathlessly intrepid as each sentence is elegantly sculpted."
— Alice Jones, i Weekend

"This book is all about loyalty, bravery and friendship. It will captivate young readers."
— Dundee Sunday Post

"Rundell has a gift for precise and beautiful descriptions… The book is full of lovely, startling scenes, such as one involving a white horse galloping through the early morning city, as well as a generous-hearted sense of adventure and companionship. Rundell uses, and gently subverts, the classic treasure-hunting story."
— Philip Womack, Literary Review

"Beautifully written and full of scenes that both thrill and enchant, The Good Thieves is Rundell at her classy best."
— Andrea Reece, LoveReading4Kids (June 2019 Book of the Month)

"The Good Thieves by Katherine Rundell (published by Bloomsbury in June) introduces an equally feisty heroine, Vita, in this fifth novel by the award winning author. A heist as never seen before – the story of a group of children who will do anything to right a wrong."
— National Literacy Trust

"Another exceptional book from one of our favourite storytellers. It's a showstopping heist glittering with New York City magic and wonder, blazing with danger and bravery. Her best book yet."
— Angels & Urchins

"Exquisite characterisation meets sublime storytelling in this thrilling, spectacular ride of an adventure. Another classic in the making from Katherine Rundell."
— Book Lover Jo

"This tale of love, family, friendship and loyalty is a captivating adventure from the master of story-telling."
— Kando Bonkers About Books

"With themes of loyalty and friendship, righting wrongs and clever thinking, this is a smart, pacey heist novel, with an inherent sense of wit throughout. Reminiscent of Emil and the Detectives in its wise way of children working together and outwitting evil adults, yet with the Rundell idiosyncrasies that mark her stories as being a cut above the rest."
— Minerva Reads

"The Good Thieves is a thrilling middle grade heist full of heart and heroism… The incredible plot has so much to admire, full of twists and with just the right amount of threat to keep you on the edge of your seat, The Good Thieves is storytelling at its best."
— The Book Activist