Feast Your Eyes: A Novel (Hardcover)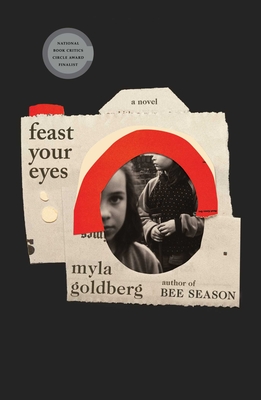 Staff Reviews
---
Myla Goldberg has written a deliciously evocative story about Lilly Preston, a Sally Mann-like fictional New York City photographer in the 50s and 60s. The story is told through catalog notes written by her daughter for a posthumous MOMA exhibit of her work.  Goldberg manages to bring alive the genius of Lilly's photographs for the reader without ever showing us a single picture. The characters of Lilly and her daughter Samantha feel almost like a gift from the author: they are two strong yet flawed female characters whose tight mother-daughter bond is tested through their lives. Goldberg brings alive their love and their pain and brings us into the world of these two unforgettable women. I give this novel all the stars! 
— Claire
Description
---
ONE OF NPR'S BEST BOOKS OF 2019

2020 Andrew Carnegie Medals for Excellence Finalist

2019 National Book Critics Circle Award Finalist

2020 Chautauqua Prize Finalist

The first novel in nearly a decade from Myla Goldberg, the award-winning, New York Times bestselling author of Bee Season—a compelling and wholly original story about a female photographer grappling with ambition and motherhood, a balancing act familiar to women of every generation.

Feast Your Eyes, framed as the catalogue notes from a photography show at the Museum of Modern Art, tells the life story of Lillian Preston: "America's Worst Mother, America's Bravest Mother, America's Worst Photographer, or America's Greatest Photographer, depending on who was talking." After discovering photography as a teenager through her high school's photo club, Lillian rejects her parents' expectations of college and marriage and moves to New York City in 1955. When a small gallery exhibits partially nude photographs of Lillian and her daughter Samantha, Lillian is arrested, thrust into the national spotlight, and targeted with an obscenity charge. Mother and daughter's sudden notoriety changes the course of both of their lives and especially Lillian's career as she continues a life-long quest for artistic legitimacy and recognition.

Narrated by Samantha, Feast Your Eyes reads as a collection of Samantha's memories, interviews with Lillian's friends and lovers, and excerpts from Lillian's journals and letters—a collage of stories and impressions, together amounting to an astounding portrait of a mother and an artist dedicated, above all, to a vision of beauty, truth, and authenticity.
About the Author
---
Myla Goldberg is the bestselling author of Feast Your Eyes, The False Friend, Wickett's Remedy, and Bee Season, which was a New York Times Notable Book, a winner of the Borders New Voices Prize, a finalist for the Hemingway Foundation/PEN award, and was adapted to film and widely translated.
Praise For…
---
"A daringly inventive parable of female creativity and motherhood."
—O, the Oprah Magazine

"Inventive ... Goldberg offers a searching consideration of the way that the identities and perceptions of a female artist shift over time."
—The New Yorker

"This ambitious novel about a pioneering midcentury photographer draws from the real-life work of Sally Mann, Diane Arbus and Berenice Abbott."
—The New York Times Book Review, Editor's Choice

"Wrenchingly intimate…Goldberg's passionate depiction of Lillian rings heartbreakingly true at a moment when discussions of emotional labor dominate certain sectors of the media and writers like Kim Brooks and Claire Vaye Watkins write viral essays contemplating whether it is truly possible to be both an artist and a mother."
—Joanna Rakoff, The New York Times

"Lively and vivid… Goldberg expertly differentiates the voices of [her characters] … fascinating."
—Chris Hewitt, Minneapolis Star Tribune

"With cleverness and imagination, vivid historical detail and great heart, this catalog tells the story of Lillian's life…Lillian Preston also represents an exciting turn of events in the career of her creator, Myla Goldberg, [who] has reemerged with a stunning success, what feels like the book she was always meant to write...Through its intense focus on a series of photographs, a group of quirky characters and a particular time in our cultural history, Feast Your Eyes becomes a universal and profound story of love and loss."
—Marion Winik, Newsday

"If you're stuck in a reading rut, Feast Your Eyes will snap you right out of it."
—Elizabeth Entenman, HelloGiggles

"Like a photograph that captures the inner light of its subject, Feast Your Eyes catches such moments on the page, il­luminating the power of both beauty and heartbreak. Goldberg unsparingly reveals a driven artist whose propulsive talent is also her Achilles' heel."
—BookPage

"The action in Feast Your Eyes unfurls entirely in program notes for a retrospective of Lillian's work in the Modern Museum of Art — expect a mix of letters, analysis of Lillian's photographs, and commentary from Samantha, who's curating the exhibit. Through this collage comes a gripping portrait of Lillian: a fierce mother, a fierce artist, and a woman crucified for both."
—Refinery 29

"By far one of the most stylistically interesting novels I've read this year, and by the book's end it had become one of my all-time favorites ... Feast Your Eyes will undoubtably win Goldberg many well-deserved accolades; her gorgeous writing, compelling subject, and ingenious format make the novel a true stand-out. It will appeal to those who enjoy literary, character-driven novels, and would also make a wonderful book group selection."
—BookBrowse, Editor's Choice review

"A mother-daughter story, an art-monster story, and an exciting structural gambit."
—Lit Hub

"From Bee Season (2000) onward, Goldberg has portrayed girls and young women with fluent sensitivity. In her brilliantly structured fourth novel, she revisits the theme again, in the story of photographer Lillian Preston, who, chronically shy yet determined, flees Cleveland for New York in 1953 at 17 and becomes an accidental single mother at 19… This is a novel of infinite depth, of caring authenticity both intimate and societal, of mothers and daughters, art and pain, and transcendent love."
—Donna Seaman, Booklist, STARRED

"A riveting portrait of an artist who happens to be a woman."
—Kirkus Reviews, STARRED, Best Memorable Fictional Families of 2019

"This story is feminist at its core ... A strong book club pick."
—Library Journal

"Goldberg evocatively profiles a brilliant woman whose identities—as woman, artist, and mother—are inseparable from one another… a memorable portrait of one artist's life."
—Publishers Weekly

"Reading Myla Goldberg's Feast Your Eyes reminded me of other unlikely adventure stories, like Hillary's summit of the Himalayas, or Shackleton's return from Antarctica. Only here the human constraints are still more challenging: making art as a single mother in a twentieth century dominated, and distorted, by men. This is an unflinching, deeply moving portrait of the artist, and a bravura performance in and of itself. I loved this book."
—Joshua Ferris, author of Then We Came to the End and To Rise Again at a Decent Hour
Coverage from NPR