Rosaline Palmer Takes the Cake (Winner Bakes All #1) (Paperback)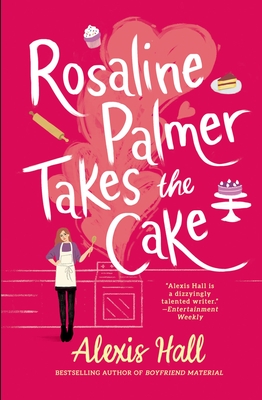 Staff Reviews
---
Rosaline's life is less put-together than she would like - she's a single mom with a house in constant need of repair, a job that doesn't always pay the bills, and parents who have always questioned her choice to drop out of medical school to have her now 8-year-old daughter (the sublimely scene-stealing Amelie). Things might be about to change, however, as she has just landed a spot on Britain's most beloved show, Bake Expectations.  We follow Rosaline through the weeks of the competition, as she has baking successes and failures, and personal ones; learning to let go of her self-doubt and trust her own choices in the process. The supporting cast is stellar, from a loyal and foul-mouthed ex-girlfriend, to her buttoned-up parents, to her fellow contestants. I read this in as close to one sitting as 400 pages and my own 8-year-old scene-stealer would allow. As one of the judges, the very Yorkshire Wilfred Honey, says, "By 'eck, it's gorgeous!"
— Cora
Description
---
Fans of Casey McQuiston, Christina Lauren, and Abby Jimenez will love this scrumptious and sweet romantic comedy from the "dizzyingly talented writer" of Boyfriend Material (Entertainment Weekly)

Publishers Weekly Summer Reads Top 10 Staff Picks
Oprah Daily Most Anticipated Romance Novels of 2021
Buzzfeed Must-Read Spring Romance Novels
Goodreads Sexy Spring Romances
LGBTQ Reads: Most Anticipated Adult LGBTQAP Fiction 2021
We Are Bookish: Spring Releases to Have on Your Radar

Following the recipe is the key to a successful bake. Rosaline Palmer has always lived by those rules—well, except for when she dropped out of college to raise her daughter, Amelie. Now, with a paycheck as useful as greaseproof paper and a house crumbling faster than biscuits in tea, she's teetering on the edge of financial disaster. But where there's a whisk there's a way . . . and Rosaline has just landed a spot on the nation's most beloved baking show.

Winning the prize money would give her daughter the life she deserves—and Rosaline is determined to stick to the instructions. However, more than collapsing trifles stand between Rosaline and sweet, sweet victory.  Suave, well-educated, and parent-approved Alain Pope knows all the right moves to sweep her off her feet, but it's shy electrician Harry Dobson who makes Rosaline question her long-held beliefs—about herself, her family, and her desires.

Rosaline fears falling for Harry is a guaranteed recipe for disaster. Yet as the competition—and the ovens—heat up, Rosaline starts to realize the most delicious bakes come from the heart.
About the Author
---
Alexis Hall lives in a little house in the south east of England where he writes books about people who bake far better than he does. He can, however, whip up a passable brownie if pressed.
Praise For…
---
"Hall does it again with this scrumptious, quietly subversive rom-com again . . . Hilarious, heartwarming, and grounded, Rosaline's story proves that happy endings look different from person to person."—Publishers Weekly

"In this delicious romantic comedy . . . Hall creates a memorable cast of characters, from Rosaline's supportive ex-girlfriend to the utterly adorable and scene-stealing Amelie. Setting the book at a reality TV show is a brilliant choice . . . there's sparkling humor and plenty of baking mishaps. A perfect bake."—Kirkus

"Everyone needs to read this. Brilliance on every single page. Hilarious, witty, tender, and stunning. I love this book."—Christina Lauren, New York Times bestselling author of The Unhoneymooners, on Boyfriend Material

"Hall is a dizzyingly talented writer, one likely to spur envy in anyone who's ever picked up a pen."—Entertainment Weekly

"Alexis Hall is the undisputed master of romantic comedy."—Jenny Holiday, USA Today bestselling author

"Every once in a while you read a book that you want to SCREAM FROM ROOFTOPS about. I'm screaming, people!"—Sonali Dev, USA Today bestselling author, on Boyfriend Material

"[T]he joyfully queer British romcom escape book I didn't know I needed. It's absurdly funny and swoonily romantic, with a sharp edge of wit and observation that keeps the story bounding along. An unbridled 'one-more-chapter-oh-no-it's-3am' delight."—KJ Charles, author of A Charm of Magpies series, on Boyfriend Material

"The writing is witty, and [the] chemistry is irresistible, but it's Hall's insights about trust and self-worth that set the story apart. This is a triumph."—Publishers Weekly on Boyfriend Material