The Atomic Bomb on My Back: A Life Story of Survival and Activism (Paperback)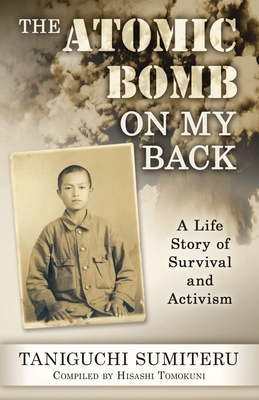 Description
---
Released for the 75th anniversary of the bombings of Hiroshima & Nagasaki
"I am determined to keep telling the reality of nuclear war...to realize a world without wars and nuclear weapons." -Taniguchi Sumiteru
As a hibakusha (atomic bomb sufferer/survivor), Taniguchi knew the horror of nuclear weapons. The Nagasaki A-bomb is estimated to have killed 73,884 people by the end of 1945. At age 16, Taniguchi was badly burned by the blast, and spent ten years in recovery. This account of his life, during which he lived with "the atomic bomb on his back," is a moving tale of survival and activism, as he dedicated his life to the abolition of nuclear weapons. He struggled against war and fought for peace until he died in his eighties. Seventy-five years have passed since that August day and the agonies of the past seem to be falling into oblivion. We cannot allow such a lapse of memory.

About the Author
---
Taniguchi Sumiteru was a survivor (hibakusha) of the 1945 atomic bombing of Nagasaki, a prominent activist for a treaty prohibiting nuclear weapons, chairman of the Nagasaki Council of A-Bomb Survivors, and co-chairperson of the Japan Confederation of A-and H-Bomb Sufferers Organizations (Nihon Hidankyo). He devoted his life to informing people of the consequences of the 1945 atomic bombing and campaigning for the abolition of nuclear weapons, making frequent public appearances to speak to student groups and participate in demonstrations calling for nuclear disarmament around the world. Taniguchi-san was an initial proposer of the Hibakusha Appeal, an international signature campaign for the elimination of nuclear weapons that is now supported by the Union of Concerned Scientists and many US and international peace organizations, including the IPB and the ICAN. He died in 2017.