A Geography of Oysters: The Connoisseur's Guide to Oyster Eating in North America (Hardcover)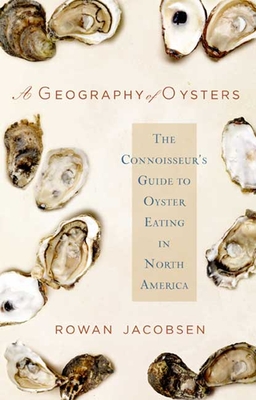 $24.95
Email or call for price.
Description
---
Passionate and playful, this is the first comprehensive guide to identifying, serving, and savoring one of America's original and most delicious foods.
Considered one of the great sensual foods since the time of ancient Rome, eaten in the United States since its earliest human habitation, oysters are now seeing an American renaissance. Like wine and cheese, they owe much of their flavor to
terroir
, or the specific environment in which they grow--indeed, oysters are the food that tastes most like the sea. Today, there are at least two hundred unique oyster appellations in North America, each producing oysters with a distinct and consistent flavor--some merely passable, others dazzling. Beautifully written and illustrated,
A Geography of Oysters
is an indispensable guide to the oysters of America, describing each oyster's appearance, flavor, origin, and availability. Readers will learn how to shuck, how to pair wines and oysters, and how to navigate a raw bar with skill and panache. The book includes recipes, maps, black-and-white photos, and a color guide, as well as lists of top oyster restaurants, producers, and festivals. Painting a picture of the quirky characters who farm oysters and the gorgeous stretches of coast where these delicacies are found,
A Geography of Oysters
is both terrific reading and the guide that foodies of all types have been waiting for.
About the Author
---
Rowan Jacobsen is the managing editor of The Art of Eating and a frequent contributor to the magazine, for which he has written on subjects including wasabi, umami, lobsters, and mead. He is also the author of Chocolate Unwrapped. He grew up eating oysters in the steamy backwaters of rural Florida and now lives in the hills of Vermont with his wife and son.
Praise For…
---
"A wide-ranging, thorough, breezily written guide to oysters as cuisine…Jacobsen leads with his fearless palate every time- he's a down-to-earth companion you listen to, even if you don't always agree with him."-Boston Globe "The most remarkable single-subject books to come along in a while…Jacobsen covers oysters in exhaustive detail, but with writing so engaging and sprightly that reading about the briny darlings is almost as compulsive as eating them…this book will improve your oyster eating immeasurably…There may be no more pleasurable food than a raw oyster, there almost certainly is no better guide."—Los Angeles Times, Russ Parsons "the ultimate macropedia for oysters"—Publisher's Weekly, starred review