Just One Damned Thing After Another: The Chronicles of St. Mary's Book One (Paperback)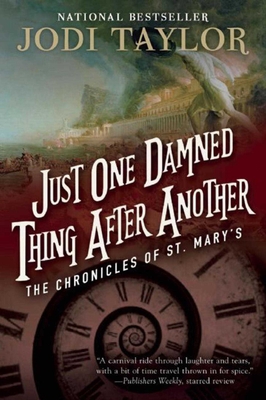 Staff Reviews
---
Madeleine Maxwell is one of the newest recruits at St. Mary's Institute of Historical Research. But this isn't your regular research facility. The historians here travel through time to "investigate major historical events in contemporary time". To work at St. Mary's, you need to be an intelligent, highly-trained creative problem-solver with attitude. It's dangerous work--imagine being sent to investigate the moments right before a major explosion or being caught up in some sort of riot unable to escape back to the present--and you can be sure, something will just about always go wrong. On top of that, History doesn't like to be messed with and will remove any historian who gets too close to altering any event. Oh, and there's also somebody out there trying to destroy St. Mary's. Put this all together and you get a lovely romp with action, comedy, and a bit of romance. I took this on vacation with me, read it in 2 days, and then went crazy because I didn't have the sequel (Symphony of Echoes) with me.
— Amanda
Description
---
The first book in the USA Today bestselling British madcap time-travelling series, served with a dash of wit that seems to be everyone's cup of tea.

"History is just one damned thing after another." —Arnold Toynbee

Behind the seemingly innocuous facade of St. Mary's Institute of Historical Research, a different kind of academic work is taking place. Just don't call it "time travel"—these historians "investigate major historical events in contemporary time." And they aren't your harmless eccentrics either; a more accurate description, as they ricochet around history, might be unintentional disaster-magnets.

The first thing you learn on the job at St. Mary's is that one wrong move and history will fight back—sometimes in particularly nasty ways. But, as new recruit Madeleine Maxwell soon discovers, it's not only history they're often fighting.

The Chronicles of St. Mary's tells the chaotic adventures of Max and her compatriots—Director Bairstow, Chief Leon Farrell, Mr. Markham, and many more—as they travel through time, saving St. Mary's (too often by the very seat of their pants) and thwarting time-travelling terrorists, all the while leaving plenty of time for tea.

From eleventh-century London to World War I, from the Cretaceous Period to the destruction of the Great Library at Alexandria, one thing is for sure: wherever the historians at St. Mary's go, chaos is sure to follow in their wake.

Skyhorse Publishing, under our Night Shade and Talos imprints, is proud to publish a broad range of titles for readers interested in science fiction (space opera, time travel, hard SF, alien invasion, near-future dystopia), fantasy (grimdark, sword and sorcery, contemporary urban fantasy, steampunk, alternative history), and horror (zombies, vampires, and the occult and supernatural), and much more. While not every title we publish becomes a New York Times bestseller, a national bestseller, or a Hugo or Nebula award-winner, we are committed to publishing quality books from a diverse group of authors.
About the Author
---
Jodi Taylor is, and always has been, a history nut. Her Chronicles of St. Mary's, a wild mix of history, adventure, comedy, romance, tragedy, and anything else the author could think of, began as a self-published book called Just One Damned Thing After Another. It's now a bestselling, wildly addictive series.
Praise For…
---
"A carnival ride through laughter and tears with a bit of time travel thrown in for spice . . . readers will be impatient for later installments."
—Publishers Weekly, starred review

"Taylor does a great job of setting up an appealing cast of characters in this new series opener, most especially the intrepid Max. There is plenty of humor, lots of action, and even a touch of romance."
—Library Journal

"Taylor has written a madcap and very funny hodgepodge of a novel whose pacing and humor is reminiscent of a Simon Pegg–Edgar Wright film."
—Booklist "Any of Jodi Taylor's addicting The Chronicles of St. Mary's books would make fun and romantic Valentine's Day reads, but Just One Damned Thing After Another is where all of the magic starts."—Bustle
"Taylor presents a compelling, astute take on time travel in this first of a ten-volume series."
—School Library Journal, Best Adult Books 4 Teens 2016

"Danger, romance, history, financial and academic politics, hidden agendas, dangerous assignments, characters you care about, and the feeling that more is going on than you're actually reading about. I can hardly wait for book two. Just One Damned Thing After Another is a true page-turner."
—SFRevu

"Just One Damned Thing After Another is a novel that wastes no time getting to the good stuff . . . if character-driven stories are your cup of tea, then you'll find plenty to like. Max is hilarious, and I love her spirited and crafty nature."
—The Bibliosanctum

"What a mess. A glorious, glorious mess. Let no one ever say that Just One Damned Thing After Another is a book that fails to live up to its title . . . . These books are so perfectly bingeable."
—B&N Sci-fi Blog

"Max is a thoroughly hilarious and confident narrator and the sense of real danger, interspersed with copious amounts of tea, pervades the story. This is the kind of book that you walk away from believing in time travel."
—Manhattan Book Review

"If you're a fan of time travel, or if you're a fan of madcap British comedies, or better yet if you're a fan of both, then you'll want to check out The Chronicles of St. Mary's."
—Adventures Fantastic

"The book can't be put down, and I loved every minute. Seven books in the series have been published in Great Britain and this first book is now being published in the U.S. I look forward to reading them all."
—YA Lit Ramblings

"The writing was witty and fun, and kept making me smile page after page. . . . Max is a brilliant character, the kind of character you root for, faults and all."
—All Things Urban Fantasy

"Jodi Taylor doesn't do things the conventional way."
—Catherine Scott, Yorkshire Post

"A carnival ride through laughter and tears with a bit of time travel thrown in for spice . . . readers will be impatient for later installments."
—Publishers Weekly, starred review

"Taylor does a great job of setting up an appealing cast of characters in this new series opener, most especially the intrepid Max. There is plenty of humor, lots of action, and even a touch of romance."
—Library Journal

"Taylor has written a madcap and very funny hodgepodge of a novel whose pacing and humor is reminiscent of a Simon Pegg–Edgar Wright film."
—Booklist "Any of Jodi Taylor's addicting The Chronicles of St. Mary's books would make fun and romantic Valentine's Day reads, but Just One Damned Thing After Another is where all of the magic starts."—Bustle
"Taylor presents a compelling, astute take on time travel in this first of a ten-volume series."
—School Library Journal, Best Adult Books 4 Teens 2016

"Danger, romance, history, financial and academic politics, hidden agendas, dangerous assignments, characters you care about, and the feeling that more is going on than you're actually reading about. I can hardly wait for book two. Just One Damned Thing After Another is a true page-turner."
—SFRevu

"Just One Damned Thing After Another is a novel that wastes no time getting to the good stuff . . . if character-driven stories are your cup of tea, then you'll find plenty to like. Max is hilarious, and I love her spirited and crafty nature."
—The Bibliosanctum

"What a mess. A glorious, glorious mess. Let no one ever say that Just One Damned Thing After Another is a book that fails to live up to its title . . . . These books are so perfectly bingeable."
—B&N Sci-fi Blog

"Max is a thoroughly hilarious and confident narrator and the sense of real danger, interspersed with copious amounts of tea, pervades the story. This is the kind of book that you walk away from believing in time travel."
—Manhattan Book Review

"If you're a fan of time travel, or if you're a fan of madcap British comedies, or better yet if you're a fan of both, then you'll want to check out The Chronicles of St. Mary's."
—Adventures Fantastic

"The book can't be put down, and I loved every minute. Seven books in the series have been published in Great Britain and this first book is now being published in the U.S. I look forward to reading them all."
—YA Lit Ramblings

"The writing was witty and fun, and kept making me smile page after page. . . . Max is a brilliant character, the kind of character you root for, faults and all."
—All Things Urban Fantasy

"Jodi Taylor doesn't do things the conventional way."
—Catherine Scott, Yorkshire Post