Salted and Cured: Savoring the Culture, Heritage, and Flavor of America's Preserved Meats (Hardcover)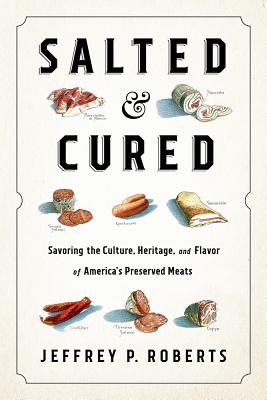 $27.00
Email or call for price.
Description
---
From country ham to coppa, bacon to bresaola
Prosciutto. Andouille. Country ham. The extraordinary rise in popularity of cured meats in recent years often overlooks the fact that the ancient practice of meat preservation through the use of salt, time, and smoke began as a survival technique. All over the world, various cultures developed ways to extend the viability of the hunt--and later the harvest--according to their unique climates and environments, resulting in the astonishing diversity of preserved meats that we celebrate and enjoy today everywhere from corner delis to white-tablecloth restaurants.
In Salted and Cured, author Jeffrey P. Roberts traces the origins of today's American charcuterie, salumi, and other delights, and connects them to a current renaissance that begins to rival those of artisan cheese and craft beer. In doing so, Roberts highlights the incredible stories of immigrant butchers, breeders, chefs, entrepreneurs, and other craftspeople who withstood the modern era's push for bland, industrial food to produce not only delicious but culturally significant cured meats.
By rejecting the industry-led push for "the other white meat" and reinvigorating the breeding and production of heritage hog breeds while finding novel ways to utilize the entire animal--snout to tail--today's charcutiers and salumieri not only produce everything from country ham to violino di capra but create more sustainable businesses for farmers and chefs.
Weaving together agriculture, animal welfare and health, food safety and science, economics, history, a deep sense of place, and amazing preserved foods, Salted and Cured is a literary feast, a celebration of both innovation and time-honored knowledge, and an expertly guided tour of America's culinary treasures, both old and new.