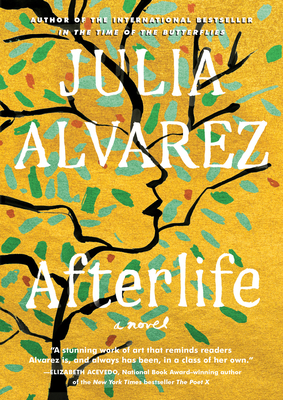 $25.95
Coming Soon - Available for Pre-Order Now
Description
---
A Most-Anticipated Book of the Year: O, The Oprah Magazine * The New York Times * Vogue * Bustle * BuzzFeed * The Millions * The Lily * Goodreads * Library Journal * LitHub * Electric Literature

The first adult novel in almost fifteen years by the internationally bestselling author of In the Time of the Butterflies and How the García Girls Lost Their Accents

"A stunning work of art that reminds readers Alvarez is, and always has been, in a class of her own." —Elizabeth Acevedo, National Book Award-winning author of the New York Times bestseller The Poet X

Antonia Vega, the immigrant writer at the center of Afterlife, has had the rug pulled out from under her. She has just retired from the college where she taught English when her beloved husband, Sam, suddenly dies. And then more jolts: her bighearted but unstable sister disappears, and Antonia returns home one evening to find a pregnant, undocumented teenager on her doorstep. Antonia has always sought direction in the literature she loves—lines from her favorite authors play in her head like a soundtrack—but now she finds that the world demands more of her than words.

Afterlife is a compact, nimble, and sharply droll novel. Set in this political moment of tribalism and distrust, it asks: What do we owe those in crisis in our families, including—maybe especially—members of our human family? How do we live in a broken world without losing faith in one another or ourselves? And how do we stay true to those glorious souls we have lost?
About the Author
---
Julia Alvarez left the Dominican Republic for the United States in 1960 at the age of ten. She is the author of six novels, three books of nonfiction, three collections of poetry, and eleven books for children and young adults. She has taught and mentored writers in schools and communities across America and, until her retirement in 2016, was a writer-in-residence at Middlebury College. Her work has garnered wide recognition, including a Latina Leader Award in Literature from the Congressional Hispanic Caucus Institute, the Hispanic Heritage Award in Literature, the Woman of the Year by Latina magazine, and inclusion in the New York Public Library's program "The Hand of the Poet: Original Manuscripts by 100 Masters, from John Donne to Julia Alvarez." In the Time of the Butterflies, with over one million copies in print, was selected by the National Endowment for the Arts for its national Big Read program, and in 2013 President Obama awarded Alvarez the National Medal of Arts in recognition of her extraordinary storytelling.
Praise For…
---
"A gorgeously intimate portrait of an immigrant writer and recent widow carving out hope in the face of personal and political grief."
—O, The Oprah Magazine

"A sweeping tour de force . . . one of the most significant Latina writers of her time."
—Entertainment Weekly

"A stunning work of art that reminds readers Alvarez is, and always has been, in a class of her own."
—Elizabeth Acevedo, National Book Award-winning author of the New York Times bestseller The Poet X

"Alvarez's prose is magnetic as she delves into the intricacies of sisterhood, immigration, and grief, once again proving her mastery as a storyteller. This stirring novel reminds readers that actions (big and small) have a lasting impact—so they should always act with love."
—Library Journal, starred review

"A funny, moving novel of loss and love . . . Alvarez writes with knowing warmth about how well sisters know how to push on each other's bruises and how powerfully they can lift each other up. In this bighearted novel, family bonds heal a woman's grief."
—Kirkus Reviews, starred review

"A charming novel of immigration, loss, and love."
—Booklist, starred review

"Alvarez's poignant return to adult fiction . . . raises powerful questions about the care people owe themselves and others . . . Alvarez blends light humor with deep empathy toward her characters, offering a convincing portrait of an older woman's self discovery. This will satisfy her fans and earn new ones."
—Publishers Weekly

"A tart, lovely book about rising to the challenge of understanding and accepting others."
—The Philadelphia Inquirer, "Spring 2020's Best Books"

"The queen is back with the exact novel we need in this fraught era. A powerful testament of witness and humanity written with audacity and authority."
—Luis Alberto Urrea, bestselling author of The House of Broken Angels

"Ravishing and heartfelt, Afterlife explores the complexities of familial devotion and tragedy against a backdrop of a world in crisis, and the ways in which we struggle to maintain hope, faith, compassion and love. This is Julia Alvarez at her best and most personal."
—Jonathan Santlofer, author of The Widower's Notebook

"From the very beginning, Julia Alvarez has proven herself a wise and funny writer with a sharp eye and ear for the joys and obligations of love and family. Now, in Afterlife, she applies her gifts to last things, as her Antonia struggles to move beyond the consolations of poetry and embrace the buzzing, blooming confusion of the world again."
—Stewart O'Nan, author of Emily, Alone and Henry, Himself

"This novel gives the immigration debate a deeply human face, chronicling the story of a recently bereaved retiree who takes in a pregnant and undocumented teenager."
—Vogue, "41 Books We Can't Wait to Read in 2020"

"A book that strives to elevate from the anger and tribalism of our times, Afterlife wonders aloud about the obligations we owe to our human family."
—Goodreads, "33 Highly Anticipated Books of 2020"