How Trump Stole 2020: The Hunt for America's Vanished Voters (Paperback)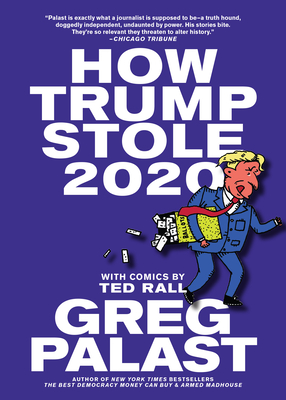 Description
---
Vote theft is the key issue to the 2020 Election and Palast is the expert to explain why....

Has Trump already stolen the 2020 election? Vote theft was once considered to be a marginal issue that no one wanted to talk about, but as the stakes have risen and the facts have become known--in large part thanks to this author--it is now recognized as one of the central issues deciding our presidential elections.

The scope is staggering. In the Georgia 2018 midterm election alone--the testing ground--Republican voting officials quietly removed half a million voters from the voter rolls--including Martin Luther King's ninety-two-year-old cousin Christine Jordan. How Trump Stole 2020 is the story of the racially poisonous schemes to steal the 2020 election, the political operatives behind the trickery--and the hard right billionaires funding it all, written by the investigative reporter who has been covering this story from the outset.
About the Author
---
Greg Palast regularly contributes original reporting to the BBC, The Guardian, Democracy Now, The Young Turks, and other progressive media. He has been featured recently on among others MSNBC's Joy Reid show and in Salon, and in the New York Times and Washington Post for successfully suing the state of Georgia with Stacey Abrams to release voter rolls after she lost a congressional seat to Brian Kemp who was at the time also the overseer of the voter rolls. Palast's two-decade hunt of elections chicanery are detailed in his books, The Best Democracy Money Can Buy (2002), Armed Madhouse (2006), and Billionaires & Ballot Bandits (2012)--all New York Times bestsellers. In 2000, his investigation for the BBC and the Guardian uncovered how the Bush family purged thousands of Black men from Florida voter rolls, falsely labeling them felons, the scheme that won Bush the White House. In 2016, Palast predicted Trump's "surprise" election months earlier in a Rolling Stone exposé detailing exactly how Trump's operatives, in control of voting offices in key states, would bend the election results. Palast lives in Los Angeles, CA.

One of America's most informed political commentators, and perhaps the only one who is also a top illustrator, Pulitzer Prize-nominated TED RALL is the author of Snowden and Bernie and Political Suicide, among other books.
Praise For…
---
"Greg Palast is not only one of our nation's finest investigative reporters but also, in How Trump Stole 2020, a master storyteller."  — Thom Hartmann


"Palast's work is invaluable for our community." — Latosha Brown, Black Voters Matter

"Palast, one our great investigative reporters, exposes one of the many mechanisms the corporate state uses to keep us enslaved. If you are not outraged by what Palast has uncovered you have no heart."   — Chris Hedges

"Greg Palast is a real American hero trying to save our democracy. Read his work. It might just save us." — Josh Fox, author and director of The Truth Has Changed and director of Gasland

"The most important book in a year of catastrophes. Palast is warning that the most decisive disaster is heading our way: theft of the 2020 election by Trump, his voter suppressors and election theft team. The train is barreling toward us with democracy as its explosive target." — Mark Karlin, Buzzflash

"Greg Palast is one of those inconveniently stubborn journalists who gets his teeth into a story and shakes it bloody right there in the middle of the parlor, dreadfully inconveniencing the pampered swells of the elite political press. ... Palast [has] dropped a bomb into the elections that has left credibility shrapnel all over the democratic process, if anyone cares to look for it." — Charles Pierce, Esquire