Everything Sad Is Untrue: (a true story) (Hardcover)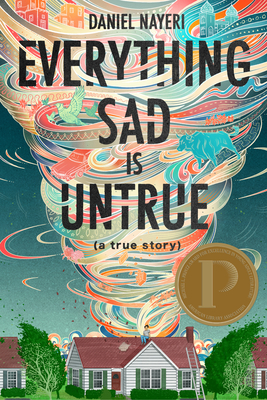 Staff Reviews
---
AUDIOBOOK review: Listener, you are about to enter a world of rose water and saffron, of sheep's blood and mad bulls, of myth and magic carpets, a world of Scheherazade's making, a thousand and one stories that each bend and weave and buoy the next. As a child who had to flee his beloved home and family in Iran, Daniel's warm narration invites us to sit and stay a while, and not only see the world through his bright, vulnerable, hopeful young eyes, but to taste, smell and hear how the past infuses the present, and why storytelling isn't as much about telling the truth as much as it is about heroes and human fallibility. 
— Jane
Description
---
At the front of a middle school classroom in Oklahoma, a boy named Khosrou (whom everyone calls "Daniel") stands, trying to tell a story. His story. But no one believes a word he says. To them he is a dark-skinned, hairy-armed boy with a big butt whose lunch smells funny; who makes things up and talks about poop too much.

But Khosrou's stories, stretching back years, and decades, and centuries, are beautiful, and terrifying, from the moment his family fled Iran in the middle of the night with the secret police moments behind them, back to the sad, cement refugee camps of Italy.and further back to the fields near the river Aras, where rain-soaked flowers bled red like the yolk of sunset burst over everything, and further back still to the Jasmine-scented city of Isfahan.

We bounce between a school bus of kids armed with paper clip missiles and spitballs to the heroines and heroes of Khosrou's family's past, who ate pastries that made people weep and cry "Akh, Tamar!" and touched carpets woven with precious gems.

Like Scheherazade in a hostile classroom, Daniel weaves a tale to save his own life: to stake his claim to the truth. And it is (a true story).

It is Daniel's.
About the Author
---
Daniel Nayeri was born in Iran and spent a couple of years as a refugee before immigrating to Oklahoma at age eight with his family. He is the publisher of Odd Dot, an imprint of Macmillan, making him one of the youngest publishers in the industry. He has served on the CBC diversity committee and the CBC panel committee.
Praise For…
---
"A distinctive voice. A rare treasure of a book." -Publishers Weekly, starred review
"A story that soars. Readers will be transported."-The Bulletin of the Center for Children's Books, starred review
"Like nothing else you've read or ever will read."-Newbery Medalist, Linda Sue Park
"Poignant and powerful. A story of heartbreak and resilience." -Foreward Reviews, starred review
"A modern epic." - Kirkus Reviews, starred review
? "A journey as intimate as it is epic. A remarkable work that raises the literary bar in children's lit."-Booklist, starred review
? "At once beautiful and painful, this timely story is highly recommended for middle grade readers."-School Library Journal, starred review
? "One of the most extraordinary books of the year."-BookPage