Lila & Theron (Hardcover)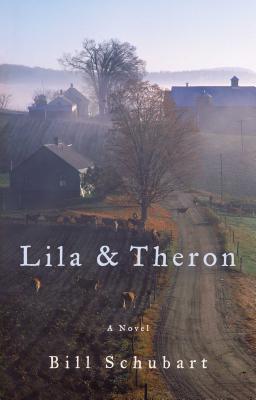 $19.95
Email or call for price.
Staff Reviews
---
This beautiful little book is a delightful read about Vermont characters and its rural landscape, in all its hardscrabble beauty and resilience. What keeps you turning pages is that you really want to see what happens to these real and raw characters, Lila and Theron, two lovable and loving educated farmers who work the land because it is what they know, and who transcend adversity because it's the right and good thing to do.
The story is melancholy yet sweet, and I really feel a part of this early 19th century world. I was sad to see the story end! 
— Sam
Description
---
Set in rural America and spanning much of the 20th century, Lila & Theron captures the spirit of the American rural experience, as it relates to their personal stories of love and sacrifice.

From the foreward, "Lila and Theron do not imagine themselves poor, nor do they covet what they don't have. They are whole in themselves and on their land and progress impinges little on their lives."

Award winning author and public radio commentator, Bill Schubart, first introduced us to Lila & Theron characters in his 2008 short story collection, The Lamoille Stories. After being influenced by William Faulkner's acceptance speech on winning the Nobel Prize, he returns seven years later to finish their stories.

"I believe that man will not merely endure: he will prevail. He is immortal, not because he alone among creatures has an inexhaustible voice, but because he has a soul, a spirit capable of compassion and sacrifice and endurance. The poet's, the writer's, duty is to write about these things. It is his privilege to help man endure by lifting his heart, by reminding him of the courage and honor and hope and pride and compassion and pity and sacrifice which have been the glory of his past."

Lila and Theron plumbs the depth and triumphs of the human spirit in a way now lost in today's obsessions with consumerism and celebrity culture, immersing us in a receding world where neighbors and nature are the gifts and love is often comes with great hardship.

From the book:

Thelma dies at nineteen giving birth to a son, Theron. When the son first meets his father, he learns his mother's death is his fault and can only muster the question, "How did she die?"

Looking away, the father mutters, "She died givin' birth ta you. An' I lost all her help and comforts."
About the Author
---
Bill Schubart is an award-winning novelist and political and cultural commentator heard weekly on Vermont Public Radio (210,000 listeners) and a frequent public speaker on writing and entrepreneurship.

Bill grew up in a small town in Lamoille County in Northern Vermont. In his largely French Canadian family, he heard countless stories.

From Bill: "The characters, eccentrics and misadventures that made up these stories have always lived in me. Stories are a uniquely human aspect of humankind. We are defined by our stories, and so as a writer I felt obliged not only to retell them to my children and grandchildren but to write them down. "
Praise For…
---
In a time all too rich with bombast and noise, Bill Schubart gives us a quiet tale of love, commitment, and utterly human interdependence—at once hard and graceful, plainspoken and eloquent. This is a romance that sidesteps shopworn clichés for sometimes painful truths and leaves the reader moved, thoughtful, and mourning the rarity of such honesty.
— Archer Mayor

I have long considered Bill Schubart to be the wisest columnist in America. That same wisdom, deep life experience, and empathy come shining through on every page of his new novel, Lila & Theron. Full of joy, sadness, humor, and insight, Lila & Theron is a clear-eyed celebration of our almost boundless capacity, despite all our human frailties, to love both one another and the place we call home. Over the years I have known many true and good country people like Lila and Theron whom I have been proud and honored to call my friends. This is a beautiful book.
— Howard Frank Mosher

Through the eyes of Lila and Theron, Schubart manages to not only give us a great love story, but also an homage to an icy hardscrabble Vermont, and a portrait of an evolving rural America in the 20th century. This book is both heartbreaking, tender and as real as a winter day. I loved it.
— Thomas Christopher Greene