Setting the Wire: A Memoir of Postpartum Psychosis (Paperback)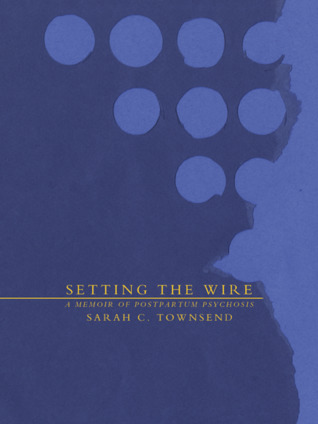 Staff Reviews
---
Setting the Wire: A Memoir of Postpartum Psychosis is a beautiful book--from the cover to the chapter layout--that vacillates between prose and poetry, reality and madness. In this slim lyrical volume a woman who just gave birth reconciles new motherhood and its demands, her own memories of a fractured childhood, and postpartum depression that leads to psychosis. It is wonderfully written; it is trauma made into art. It's something we should all aspire to.
— Samantha Kolber
Description
---
Literary Nonfiction. Poetry. Women's Studies. SETTING THE WIRE is a memoir of postpartum psychosis and a meditation on containment: what we hold and what holds us together. A lyric exploration of motherhood, mental illness, and familial ties, Sarah C. Townsend's debut work weaves together personal anecdote, film, music, visual art, and psychology. SETTING THE WIRE is a visceral reflection on the experience of fragmentation as a young psychotherapist and new mother. "Taut, lyrical, wise writing."--Claire Dederer "Townsend drops us masterfully into a state of mind almost over the edge but never completely."--Theo Pauline Nestor "This memoir has...water and earth. Body and mind. Something like 'a shard' between."--Bhanu Kapil.
About the Author
---
Sarah C. Townsend is the author of Setting the Wire: A Memoir of Postpartum Psychosis, forthcoming from The Lettered Streets Press in 2019. Her essays have appeared in The Writer in the World and Pitkin Review, and a coauthored paper with Elisabeth Young-Bruehl serves as a chapter in Subject to Biography: Psychoanalysis, Feminism, and Writing Women's Lives. Sarah received her MFA in creative writing from Goddard College, her Master's in counseling psychology from Northwestern University, and is a graduate of the College of Letters at Wesleyan University. She writes, teaches, and practices psychotherapy in and around Seattle, WA. You can learn more about her at SarahTownsendWriter.com.
Praise For…
---
"Taut, lyrical, wise writing." – Claire Dederer, author of Love and Trouble

"Townsend drops us masterfully into a state of mind almost over the edge but never completely." – Theo Pauline Nestor, author of Writing Is My Drink

"This memoir has . . . water and earth. Body and mind. Something like 'a shard' between." – Bhanu Kapil