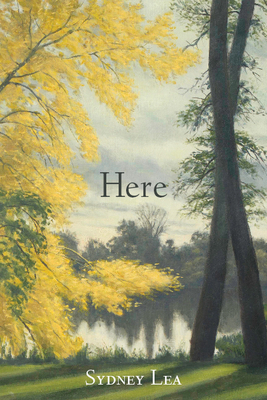 Description
---
In his thirteenth book of poetry, Sydney Lea gives voice to the deep connection between human life and the natural world as well as their fragility and transience. Here, nature is as much a muse as a trigger for sense memory—as a schoolboy on a playground "breathing in autumn mud, / that cherished aroma" or as witness to a redtail hawk's attack and the aftermath during which "That poor doomed duckling's wisps of down / Floated in air like snowflakes, /Diaphanous." Death is a constant presence in these poems, too, arising from the bittersweet awareness of what eventually will be lost. While there is reckoning, there are few regrets in a life well-lived and closely observed. Here is a title, but it's also a statement, an incantation and affirmation: "Let's chant it throughout the year," Lea writes, "like so much birdsong: we're here we're here we're here."
About the Author
---
Sydney Lea, a former Pulitzer finalist, founded and for thirteen years edited New England Review. This is his thirteenth poetry collection and his twentieth book. He will soon publish The Music of What Happens: Lyric and Everyday Life, his collected newspaper columns from his years (2011-15) as Vermont Poet Laureate. His collaborative book of essays with former Delaware laureate Fleda Brown, Growing Old in Poetry: Two Poets, Two Lives, appeared in 2018. He has been active in literacy efforts and conservation, especially in Maine, where the land trust he chaired until 2018 conserved nearly 400,000 acres of working forest.
Praise For…
---
"Sydney Lea has always been a poet equally eloquent and wide-eyed before reality. This self-aware book of experience, stock-taking, and memory finds him just now, just here, a person still hopeful in the face of it all, a poet at the height of his powers." —Jane Hirshfield
"Because Sydney Lea is a poet who doesn't stand outside his subject, his work is committed, above all, to everything that constitutes connection—nature, community, and family. His latest book is a testament to what can be said, what can be felt at the transition between life and death, the marginal line between what he knows and what he will lose. ...It is not so much the recognition of change and loss that Lea appraises, but the consciousness of being itself....this poet embraces the world around him with gratitude and joy." —Cleopatra Mathis
"...This radiant collection will leave readers counting their blessings past, to come, and most certainly right here."
— Raul Nino
"...Interspersed with Lea's musings on his life are his luminous descriptions of the world around him, including the 'elegance and composure' of a flock of circling vultures, and a first blush of spring 'with snowdrops glinting, the freshets making their evanescent cascades through the woods.' The refrain of aging and death echoes throughout and is tempered by Lea's gentle optimism and appreciation for every facet of life. These poems provide readers with a potent antidote to hopelessness."
— Publishers Weekly
"...In clear, direct language that moves like silk, we find every experience interesting — poems about family, daughter, grandchildren, the doughnut baker. It shows a poet being the best he can be, engaged fully with every breath and each living moment...."
— Grace Cavalieri
"Sydney Lea's latest collection of poems, like the many volumes preceding it, transports us to the world of here and now while simultaneously transcending the boundaries of particular times and places. Along the way, we discover the wonders of the visible world, the joys and sorrows of its human inhabitants, and the artistry that has made Lea one of the leading poets of our time...."
— James Kirkland