Sherlock Holmes: A Scandal in Japan (Paperback)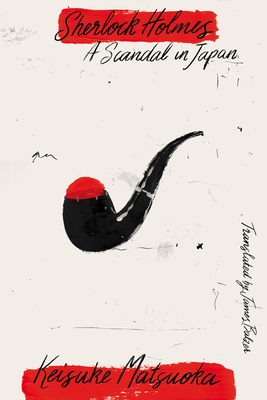 Description
---
Where did Sherlock Holmes go during his famous disappearance between his death at Reichenbach Falls and reappearance in Baker Street, three years later? God of mystery Keisuke Matsuoka contends that it was in the Far East—in Japan, to be exact.

In 1891, Nicholas Alexandrovich, the Tsarevich of Russia, was traveling in a fragile Meiji-era Japan on an official tour when he was almost assassinated. The Otsu Incident, as this came to be known, led to fear of an international incident, perhaps even a declaration of war from Russia. In steps Sherlock Holmes—on the run from the British police and presumed to be dead. Together with Hirobumi Ito, the first Prime Minister of Japan, the two unlikely allies immerse themselves in a knotted tangle of politics, deceit, and great powers.
In this deftly researched and immersive novel, based on real historical events, the great Sherlock Holmes stakes his flag in modern history in the turbulent early years of a rising Japan buffeted by the winds of change.
About the Author
---
Keisuke Matsuoka exploded onto the literary stage in 1997 with the psycho-thriller Saimin (Hypnosis), which sold over a million copies in Japan. Two years later he published Senrigan (Second Sight), which have spin offs and sequesls, achieved combined sales of over six and a quarter million books to date.
His recent novel Tantei no Tantei (Detective vs Detective) become a success which a drama series was created in Japan. Detective VS Detective is currently streaming in the U.S. on Crunchyroll.
Matsuoka has won many awards through out his career, his most recent being the 2014 Bookwalker Grand Prize Award in Literature.
Praise For…
---
"Japanese writer Keisuke Matsuo-ka is evidently a Holmes fan, carefully seeding his story with multiple Holmesian references.
There is the recreation of the struggle at Reichenbach which opens the book - a clever twist attributes Holmes' survival to his knowledge of the Japanese martial art of jujitsu, allowing him to defeat Moriarty in mortal combat. Then there are the requisite visits to 221B Baker Street and the eventual reunion with the faithful Dr John Watson." - Strait Times 


"Sherlock Holmes is rich with love and geeky knowledge. This is easily the most enjoyable Holmes pastiche to appear in the US market in years. " - Open Letter Review

"Sherlock and his brother behave exactly as this reader imagines they would have if the detective actually had been forced to leave his country and try to acclimate himself to such a different culture.  The portrait of late 19th-century Japan is fascinating." - Marilyn's Mystery Reads