Addition Subtraction Speed Drills: 100 Daily Timed Math Tests with Facts that Stick, Reproducible Practice Problems, Digits 0-20, Double and Multi-Dig (Paperback)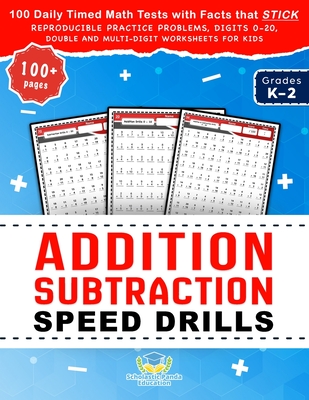 $9.98

Not in stock at Bear Pond: usually arrives in 2-5 days
Description
---
Want your child to be ahead of their peers?
This workbook has over 100 days of reproducible addition and subtraction practice problems for digits 0-20 Just a few minutes of math a day can help students tremendously.
Which is why we created these worksheets to be used as timed tests to improve fluidity and build a strong foundation of math skills.
Math difficulty will increase as students progress through the book so they stay engaged and can continually see their improvement with each page.
*Answer key included* in the back of this book, so students can check their answers easily.
About Scholastic Panda Education
Scholastic Panda Education is a passionately run single mom + daughter publishing company We love creating cute and practical books for kids
The Book Contains:
Premium glossy cover design
Printed on high quality 60lb interior stock
Perfectly sized at 8.5" x 11"
Made in the USA