All's Well: A Novel (Hardcover)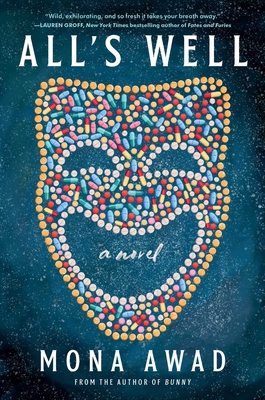 Staff Reviews
---
I don't always know what's going on when I read a Mona Awad novel, but I always enjoy the ride. All's Well is about Miranda, a college theater professor with chronic pain, a recent divorce, and a love of Shakespeare. She insists on putting on the play "All's Well That Ends Well" despite her students' objections: they want to do MacBeth. What ensues is a wild, funny story of mysterious strangers (they come in threes), mutiny and redemption. Miranda is a complex, fierce, unforgettable protagonist in a tale that mixes Shakespeare, magic, and pain pills in a dizzying and most original way. 
— Claire
August 2021 Indie Next List
---
"Gloriously bananas, dark and weird, and so, so good. All's Well is a big, messy, strange journey about chronic pain, Shakespeare, friendship, mental health, witchcraft, and work."
— Rachel Barry, WORD Bookstores, Brooklyn, NY
Description
---
From the author of Bunny, which Margaret Atwood hails as "genius," comes a dazzling and darkly funny novel about a theater professor who is convinced staging Shakespeare's most maligned play will remedy all that ails her—but at what cost?

A MOST ANTICIPATED BOOK OF SUMMER 2021 SELECTED BY * ENTERTAINMENT WEEKLY * VULTURE * LITHUB * REFINERY29 * GOODREADS * POPSUGAR * NOW MAGAZINE * BOSTON * AND MORE

"[A] sparkling valentine to the Bard. A dream of a novel, perfect for a midsummer night's read."—OPRAH DAILY
"A dazzling wild ride of a novel—daring, fresh, entertaining, and magical." —GEORGE SAUNDERS
"Wild and exhilarating and so fresh it takes your breath away." —LAUREN GROFF
"Oh my lord what a fabulous novel—knocked me out!"—MARY KARR

Miranda Fitch's life is a waking nightmare. The accident that ended her burgeoning acting career left her with excruciating, chronic back pain, a failed marriage, and a deepening dependence on painkillers. And now she's on the verge of losing her job as a college theater director. Determined to put on Shakespeare's All's Well That Ends Well, the play that promised, and cost, her everything, she faces a mutinous cast hellbent on staging Macbeth instead. Miranda sees her chance at redemption slip through her fingers.

That's when she meets three strange benefactors who have an eerie knowledge of Miranda's past and a tantalizing promise for her future: one where the show goes on, her rebellious students get what's coming to them, and the invisible, doubted pain that's kept her from the spotlight is made known.

With prose Margaret Atwood has described as "no punches pulled, no hilarities dodged...genius," Mona Awad has concocted her most potent, subversive novel yet. All's Well is the story of a woman at her breaking point and a formidable, piercingly funny indictment of our collective refusal to witness and believe female pain.
About the Author
---
Mona Awad is the author of 13 Ways of Looking at a Fat Girl, a finalist for the Scotiabank Giller Prize and winner of the Amazon Canada First Novel Award and Bunny, named a Best Book of 2019 by Time, Vogue, and The New York Public Library, a finalist for the New England Book Award, and currently in development as an AMC series written by Megan Mostyn-Brown. She has published work in The New York Times Magazine, Time, VICE, Electric Literature, McSweeney's, and elsewhere. She begins teaching fiction fall 2020 in the MFA program at Syracuse. Awad currently lives in Boston.
Praise For…
---
PRAISE FOR ALL'S WELL BY MONA AWAD

"[A] sparkling valentine to the Bard. A dream of a novel, perfect for a midsummer night's read."—O, THE OPRAH MAGAZINE

"Awad is a dark genius, preternaturally gifted at creating vicious, hilarious tales about the depravity inside us.....A wicked mash-up about opioid addiction, Bard nerds, Faustian deals, and a cursed play? Yes, please."—VULTURE

"Awad's writing isn't merely intoxicating. It's incandescent."—THE WASHINGTON POST

"A surreal exploration of chronic pain, women's believability and visibility, and desperation that straddles the line between comedy and horror."—NPR

"A stealthily captivating new novel that, like its namesake, skews more dark than light as it casts its spell."—THE BOSTON GLOBE

"A darkly hilarious journey into the psyche of a woman approaching her breaking point."—TIME

"Imagine Margaret Atwood and Angela Carter traipsing through the dreamy creepiness of fairy tales while giving Shakespeare tips on female narratives."—THE TORONTO STAR

"Thrilling…Awad has taken Shakespeare's premise of illness and spiritual rebirth and turned it into an inventive horror-comedy full of altered realities and uncanny weirdness." —THE SEATTLE TIMES

"A mystical journey complete with spectral benefactors, mysterious curses and limitless magic. Something the Bard would've been proud of." —SAN DIEGO UNION TRIBUNE

"Mona Awad has concocted her most potent, subversive novel yet. All's Well is the story of a woman at her breaking point and a formidable, piercingly funny indictment of our collective refusal to witness and believe female pain." —PAPERBACK PARIS

"Mona Awad proves in her dazzling, hilarious, wildly terrifying, virtuoso new novel, All's Well, the paradoxes and incongruities of Shakespeare's lesser-loved play makes an ideal springboard for contemporary fiction."—CHRISTOPHER BOLLEN

"As in Awad's last novel Bunny, things start off weird and institutional and then spiral into madness, and as in Bunny, the experience is a fiendish delight: funny, thrilling, and creepily recognizable."—LITHUB

"A brilliant noir comedy about art and illness…. Awad's characters are deliciously over the top and impossible to forget, as is the author's gift for morbid humor….Endlessly thought-provoking and not to be missed."—BOOKLIST (starred review)

"Awad artfully and acutely explores suffering, artistry, and the limitations of empathy."—KIRKUS REVIEWS

"There's both pathos and humor in this story of how we suffer and the ways in which we're healed."—BOOKPAGE

"A dazzling wild ride of a novel – daring, fresh, entertaining, and magical. Mona Awad is a powerful and poetic storyteller, telling us something new and profound here about the connection between suffering and elation. When I was away from this book, I longed to get back to it."—GEORGE SAUNDERS, New York Times bestselling, Booker Prize-winning author of Lincoln in the Bardo

"Wild and exhilarating and so fresh it takes your breath away, All's Well is an utterly delicious novel of pain and vitality, Shakespeare and the uncanny, and our own subtle moral failures when we brush up against the pain of others. Mona Awad's talent is so vital that it absolutely roars out of her. "—LAUREN GROFF, New York Times bestselling author of Fates and Furies

"Oh my lord what a fabulous novel--knocked me out!"—MARY KARR, New York Times bestselling author of The Liars' Club, Cherry, and Lit

"In this eerie and engrossing novel, Mona Awad deftly delivers a narrator as mesmerizing as she is unreliable. Miranda's quest for her heart's desires illuminates the complex bargains one woman dares to make in her most desperate moments. With its mordant humor and potent surreality, All's Well is a gripping read, and Awad is a writer of great intensity and insight."—HELEN PHILLIPS, author of The Need

"For all my fellow right-thinking adoring readers of Bunny, another dark and insane gem from Mona Awad, full of scintillating insights on Shakespeare, pain, and the human condition."—ELIF BATUMAN, author of The Idiot, finalist for the Pulitzer Prize for Fiction

"Tragic, macabre, and wicked. I laughed out loud the whole way through. One of the funniest books I've read in years."—HEATHER O'NEILL, author of The Lonely Hearts Hotel