The Death of Jesus: A Novel (Hardcover)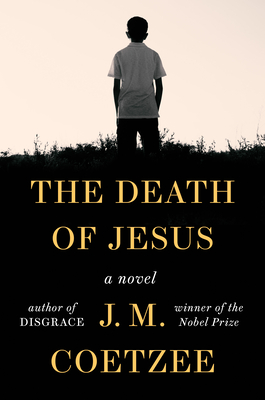 $27.00
Email or call for price.
Description
---
A NEW YORK TIMES NOTABLE BOOK OF 2020

After The Childhood of Jesus and The Schooldays of Jesus, the Nobel Prize-winning author completes his haunting trilogy with a new masterwork, The Death of Jesus

In Estrella, David has grown to be a tall ten-year-old who is a natural at soccer, and loves kicking a ball around with his friends. His father Simón and Bolívar the dog usually watch while his mother Inés now works in a fashion boutique. David still asks many questions, challenging his parents, and any authority figure in his life. In dancing class at the Academy of Music he dances as he chooses. He refuses to do sums and will not read any books except Don Quixote.

One day Julio Fabricante, the director of a nearby orphanage, invites David and his friends to form a proper soccer team. David decides he will leave Simón and Inés to live with Julio, but before long he succumbs to a mysterious illness. In The Death of Jesus, J. M. Coetzee continues to explore the meaning of a world empty of memory but brimming with questions.
About the Author
---
Born in Cape Town, South Africa, on February 9, 1940, J. M. Coetzee studied first at Cape Town and later at the University of Texas at Austin, where he earned a PhD degree in literature. In 1972, he returned to South Africa and joined the faculty of the University of Cape Town. His works of fiction include Dusklands; Waiting for the Barbarians, which won South Africa's highest literary honor, the Central News Agency Literary Award; and the Life and Times of Michael K., for which Coetzee was awarded his first Booker Prize in 1983. He has also published a memoir, Boyhood: Scenes From a Provincial Life, and several essay collections. He has won many other literary prizes, including the Lannan Award for Fiction, the Jerusalem Prize, and the Irish Times International Fiction Prize. In 1999, he again won Britain's prestigious Booker Prize for Disgrace, becoming the first author to win the award twice in its 31-year history. In 2003, Coetzee was awarded the Nobel Prize in Literature.
Praise For…
---
Praise for The Death of Jesus:

"[The Death of Jesus] not only impresses and confounds, but also moves to tears . . .  [T]he Jesus trilogy returns us to what we could call 'major phase' Coetzee—to the titanic novels of Disgrace, Waiting for the Barbarians, and Life and Times of Michael K, with their expansive brevity, ethical richness, and enduring literary currency—and adds the insight of age . . . Coetzee is still possibly our greatest writer, and . . . with the masterpiece that is The Death of Jesus, he reminds us why." —The Los Angeles Review of Books

"You could call [Coetzee] a novelist of ideas, but also a philosopher working in fiction. Many of Coetzee's recent novels have the stripped-down quality of philosophical fable. His prose . . . [is] disorienting, then hypnotic. When Coetzee withholds back story, the reader must learn to tolerate mystery." —The New York Times Book Review

"[The Death of Jesus] brings to a close one of the most fascinating experiments in recent fiction, and one of the most misunderstood . . . Like other great artists in the late stages of their careers, Coetzee has grown less didactic and masterful, more interested in asking questions than answering them. Those questions are some of the biggest and oldest ones we have, about holiness and justice and parenthood and life after death, but that doesn't mean they have to be posed solemnly." —Adam Kirsch, Tablet

"Coetzee is working within a more spiritual dimension, concerned less with temporal matters than the judgment we might levy on our lives. In Coetzee's moral matrix, desire is of a piece with our fallen nature, equal parts good and evil. It is the source from which so many of our instincts spring: to have and to hold; to love and to cherish; to wound, to dominate, to destroy . . . Desire is the proof that we are alive; that we are, in both the best and worst senses of the word, human." —The New Republic

"What the reader will remember will be the pleasures available to anyone: the deadpan humor, the swoons of their melodramatic thriller plots, and the beguiling weirdness of the world Coetzee has constructed." —Harper's Magazine
 
"[A] thoughtful, clear-eyed final installment . . . Like in previous volumes, Coetzee's simple, clean prose is guided by philosophical questions, and Simón's humanistic reflections provide a thrilling contrast to David's bumpy journey of faith and acceptance of his mortality. This is an ambitious and satisfying conclusion." —Publishers Weekly

"Anything J.M. Coetzee writes deserves our full attention . . . The Death of Jesus is full of truth, irreducible, tearfully moving to read." —Evening Standard

"Concludes the trilogy with force and heart . . . if The Death of Jesus strikes you in the right place,then you will read its cool, dry final sentences—as I did—with tears in your eyes." —The Times (London)

"The Death of Jesus is a necessary read, casting a strange new light on one of the world's greatest and most elusive novelists." —Financial Times 

"Any new novel from Coetzee commands respect, and the final part of the trilogy is no exception . . . The Death of Jesus constantly challenges what we believe and why." —The Mail on Sunday (UK)

"The Death of Jesus is fiction of an order that dazzles the mind and leaves the heart questing and reaching out for the power and profundity of what is at some remote level a restatement, even if it is a bewildering one, of what we traditionally think of as the greatest story ever told." —The Sydney Morning Herald

"Beautiful and strange:  a sort of  symbolist poem in prose . . . contains truths unsullied by the passage of time." —The Weekend Australian

"Though a veritable house of interpretative mirrors, as many of Coetzee's novels are, this one points readers to a less cerebral, more visceral intimacy with the losses it contemplates." —Booklist (starred review)

Praise for The Schooldays of Jesus:
 
"Rich, dense, often amusing, and above all, full of inner tension and suspense." —The New York Times Book Review
 
"There's no denying the haunting quality of Coetzee's measured prose, his ability to suspend ordinary events in a world just a few degrees away from our own." —The Washington Post

Praise for The Childhood of Jesus:

"[The Childhood of Jesus] plunges us at once into a mysterious and dreamlike terrain….A Kafka-inspired parable of the quest for meaning itself." —Joyce Carol Oates, The New York Times Book Review (front page)

"[A book] of profound and painful humanity, preoccupied with some of the most essential questions about what it means to be a parent and what happens when noble principles are confronted with the grubby details of everyday life." —Patrick Flanery, The Washington Post