Fostering Learning Partnerships Between Classrooms, Authors, and Illustrators
Susan Koch's first grade class shares reactions to a reading by guest author Christy Mihaly
Are you looking for ways to build relationships between your classroom and an author or illustrator? Have you been looking for ways to enhance your literacy program in your classroom? Are you an author or illustrator looking for authentic feedback from your intended audience?

Elementary school teacher Susan Koch and children's author Christy Mihaly share ideas about building a meaningful relationship between a class of learners and a visiting writer or artist from the local community. They'll discuss their experiences and tips to maximize the benefits for the class, the teacher, and the visitor, along with suggestions for program possibilities and thoughts about getting started. Classroom visits, virtual sessions, and classroom connections can add some excitement to your literacy approach while providing new perspective.

A Bear Pond Books Educator Series Event. Free and open to the public.
Please RSVP Here.
About Our Presenters:
Christy Mihaly is a children's author who lives in East Calais, overlooking the hayfield that inspired her first picture book. Released in August, Hey, Hey, Hay! (A Tale of Bales and the Machines that Make Them) features a mother-daughter pair bringing in the hay. In October, she'll publish Diet for a Changing Climate: Food for Thought, a nonfiction YA co-written with Sue Heavenrich. Christy has written a half-dozen books in the educational market on topics from California's redwood forest to cosplay to elephants and moose. She writes for children's magazines about science, nature, and history. Her poetry has appeared in publications including Imperfect: Poems about Mistakes, an Anthology for Middle Schoolers, and Highlights.
Christy blogs about writing and books at GROG, the group blog for writers and readers of children's literature. (http://groggorg.blogspot.com.) She has volunteered in elementary schools as an environmental educator and reading mentor, and is a regular visitor in the first-grade classroom of Susan Koch. She loves walking in the woods and playing the cello (though not simultaneously).
Susan Koch, a first grade teacher in Montpelier, Vermont, has been devoted to using an inquiry approach to learning for more than 20 years. Susan was named the 2016 Vermont Teacher of the Year. She is passionate about outdoor learning and creating community. Susan believes that developing a sense of wonder is crucial for the future stewards of the Earth.
Event date:
Saturday, February 16, 2019 - 11:00am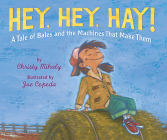 $17.99
ISBN: 9780823436668
Availability: On Our Shelves Now
Published: Holiday House - August 14th, 2018
---