The Stone Sky (The Broken Earth #3) (Paperback)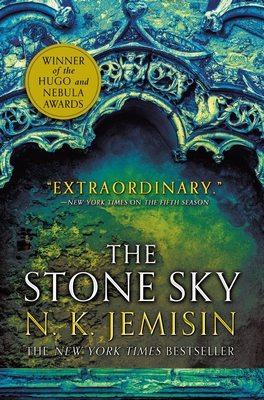 Other Books in Series
This is book number 3 in the The Broken Earth series.
Description
---
Humanity will finally be saved or destroyed in the shattering conclusion to the post-apocalyptic and highly acclaimed NYT bestselling trilogy that won the Hugo Award three years in a row.
The Moon will soon return. Whether this heralds the destruction of humankind or something worse will depend on two women.
Essun has inherited the power of Alabaster Tenring. With it, she hopes to find her daughter Nassun and forge a world in which every orogene child can grow up safe.
For Nassun, her mother's mastery of the Obelisk Gate comes too late. She has seen the evil of the world, and accepted what her mother will not admit: that sometimes what is corrupt cannot be cleansed, only destroyed.
This is the way the world ends... for the last time.

"Extraordinary." - New York Times on The Fifth Season
The Broken Earth
The Fifth Season
The Obelisk Gate
The Stone Sky
For more from N. K. Jemisin, check out:
The Inheritance Trilogy
The Hundred Thousand Kingdoms
The Broken Kingdoms
The Kingdom of Gods
The Inheritance Trilogy (omnibus edition)
Shades in Shadow: An Inheritance Triptych (e-only short fiction)
The Awakened Kingdom (e-only novella)
Dreamblood Duology
The Killing Moon
The Shadowed Sun
The Dreamblood Duology (omnibus)
About the Author
---
N. K. Jemisin is the first author in the genre's history to win three consecutive Best Novel Hugo Awards, all for her Broken Earth trilogy. Her work has also won the Nebula, Locus, and Goodreads Choice Awards. She is currently a reviewer for the New York Times Book Review, and she has been an instructor for the Clarion and Clarion West writing workshops. In her spare time she is a gamer and gardener, and she is also single-handedly responsible for saving the world from King Ozzymandias, her dangerously intelligent ginger cat, and his phenomenally destructive sidekick Magpie.
Praise For…
---
"The Stone Sky ... establishes [Jemisin] as arguably the most important speculative writer of her generation... It's that good. She's that good."—John Scalzi, Wall Street Journal

"Jemisin is now a pillar of speculative fiction, breathtakingly imaginative and narratively bold."—Entertainment Weekly

"[N. K. Jemisin] has pretty well conquered [the epic fantasy scene] with the Broken Earth."—The New York Times

"Jemisin deliberately refuses to provide easy answers: they're simply not available, in this world or ours. Painful and powerful."—Kirkus (starred review)

"Vivid characters, a tautly constructed plot, and outstanding worldbuilding meld into an impressive and timely story of abused, grieving survivors fighting to fix themselves and save the remnants of their shattered home."—Publishers Weekly (starred review)

"The depth and breadth of Jemisin's achievement with this trilogy is geologic. These books are a revolution in which I want to take part."—NPR Books

"Incredible, wildly original . . . [The Stone Sky is] blowing me away."—The Verge

"A real tour de force . . . one of the best fantasy trilogies in recent memory."—RT Book Reviews (five stars)

"The powerful conclusion to the "Broken Earth" trilogy will please the author's many fans with its fully developed world, detailed settings, and complex characters."—Library Journal

"[N. K. Jemisin's] books have abstracted real-life race issues in a way that serves to magnify the truth."—Washington Post

"Intricate and extraordinary."—New York Times on The Fifth Season

"[A]n ambitious book, with a shifting point of view, and a protagonist whose full complexity doesn't become apparent till toward the end... Jemisin's work itself is part of a slow but definite change in sci-fi and fantasy."—Guardian on The Fifth Season

"Astounding... Jemisin maintains a gripping voice and an emotional core that not only carries the story through its complicated setting, but sets things up for even more staggering revelations to come."—NPR Books on The Fifth Season

"Jemisin's graceful prose and gritty setting provide the perfect backdrop for this fascinating tale of determined characters fighting to save a doomed world."—Publishers Weekly (Starred Review) on The Fifth Season

"A must-buy...breaks uncharted ground."—Library Journal (Starred review) on The Fifth Season

"Jemisin might just be the best world builder out there right now.... [She] is a master at what she does."—RT Book Reviews (Top Pick!) on The Fifth Season

"Stunning and well constructed ... a book that imbues itself with deeper meaning the more it unfolds and reveals itself, and by the end, I saw everything in a new light. I knew Jemisin was talented, being a huge fan of her Inheritance and Dreamblood books, but here she employs heretofore unseen skills."—Lightspeed on The Fifth Season

"Brilliant...gorgeous writing and unexpected plot twists."—Washington Post

"One of the most celebrated new voices in epic fantasy."—Salon.com