Neverwhere: Author's Preferred Text (Paperback)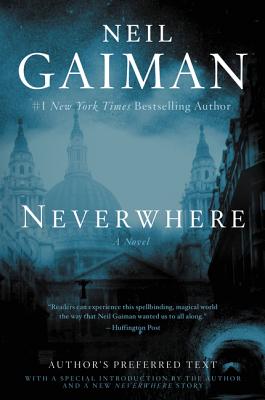 List Price: $16.99
Our Price: $15.29
(Save: $1.70 10%)
Usually Ships in 1-5 Days
Staff Reviews
---
Neverwhere is my favourite book, I think, ever written. Written in Gaiman's beautiful kaleidoscopic language, it's set up in London, modern day, but that's the last normal sort of thing about it. It starts off with a man moving to London, and meeting a gravely injured girl, who pulls him into the 'London Below' for a dangerous romp in a fantastical land. This book is strange and outlandish, but very human. It breathes with a life Gaiman has given it, and it grips you (gently but firmly) until you turn the final page. Within the pages it allows you to explore the London below, loop endlessly around winding dark tunnels and meet savory, and not so sweet characters.  
— Zoë
Description
---
National Bestseller
Selected as one of NPR'S Top 100 Science Fiction and Fantasy Books of All Time
The #1 New York Times bestselling author's ultimate edition of his wildly successful first novel featuring his "preferred text"—and including his special Neverwhere tale, "How the Marquis Got His Coat Back"
Published in 1997, Neverwhere heralded the arrival of a major talent and became a touchstone of urban fantasy. Over the years, a number of versions were produced both in the U.S. and the U.K. Now Gaiman's preferred edition of his classic novel reconciles these works and reinstates a number of scenes cut from the original published books.
Richard Mayhew is a young London businessman with a good heart whose life is changed forever when he stops to help a bleeding girl—an act of kindness that plunges him into a world he never dreamed existed. Slipping through the cracks of reality, Richard lands in Neverwhere—a London of shadows and darkness, monsters and saints, murderers and angels that exists entirely in a subterranean labyrinth. Neverwhere is home to Door, the mysterious girl Richard helped in the London Above. Here in Neverwhere, Door is a powerful noblewoman who has vowed to find the evil agent of her family's slaughter and thwart the destruction of this strange underworld kingdom. If Richard is ever to return to his former life and home, he must join Lady Door's quest to save her world—and may well die trying.
Neil Gaiman is the #1 New York Times bestselling author of more than twenty books, and is the recipient of numerous literary honors. Originally from England, he now lives in America.
About the Author
---
Neil Gaiman is the #1 New York Times bestselling author of more than twenty books, including Norse Mythology, Neverwhere, and The Graveyard Book. Among his numerous literary awards are the Newbery and Carnegie medals, and the Hugo, Nebula, World Fantasy, and Will Eisner awards. Originally from England, he now lives in America.
Praise For…
---
"For those who have not read Neverwhere, the new edition is the one to read ... readers can experience this spellbinding, magical world the way that Neil Gaiman wanted us to all along."
— Huffington Post

"For those who have never been to Neverwhere, it's time to go. For those who may have traveled once before, this new edition is calling out to you. There is more to see, hear and learn."
— Suspense Magazine